I know I've been absent for a while. Jeff and I both got the flu last month so we've both been generally tired and "off" for quite some time now. After an entire month spent indoors eating dry toast for dinner and never seeing the light of day, it was finally time we got out into the world again.
This past weekend we took a date night to The Spence, one of Richard Blais's newish restaurants in Atlanta. We decided to do our usual thing and order a bajillion small plates in lieu of entrees so that we could try more of the menu, which sounded incredible.
Started off with buffalo sweetbreads garnished with both creamed and powdered bleu cheese and a few sprigs of celery leaf. These were extraordinarily spicy, but still really soft and delicious.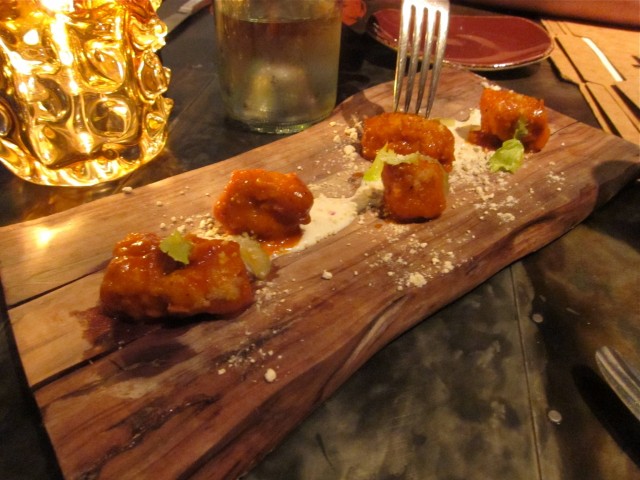 Next was the porcini mushroom and shortrib pasta. It was pretty good, with chewy pasta and a runny egg. There was very little shortrib though, and I think the mushrooms were added as a powder because the flavor was there but they were nowhere to be seen.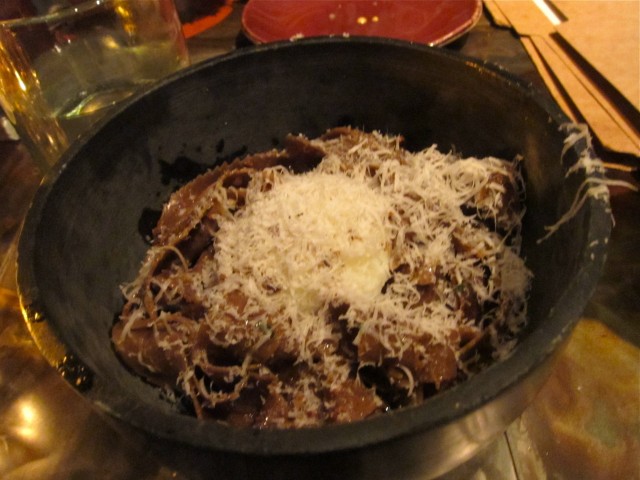 Then harissa spiced beef tartare with fried quail eggs and tater tots. This one was so yummy! I loved the tater tots standing in for the requisite toast, but there really should have been a lot more of them. We ended up just eating several spoonfuls of raw beef towards the end there.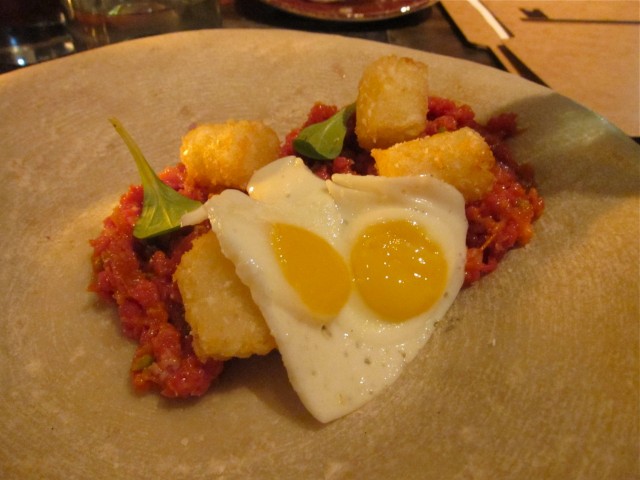 Another delicious dish suffering from a lack of sufficient toast: foie gras with Japanese green peaches. There was other stuff on it too that wasn't mentioned on the menu. Some shallot slices that tasted like they were marinated in the peach juice, something that looked like yuzu gel but tasted like nothing, possibly crushed hazelnuts, and a pickled olive that took me by surprise. It was really tasty, but again there wasn't enough toast to pile it all on so we ended up eating almost half of it straight up, which was not my favorite thing ever. Those little green peaches were incredible though.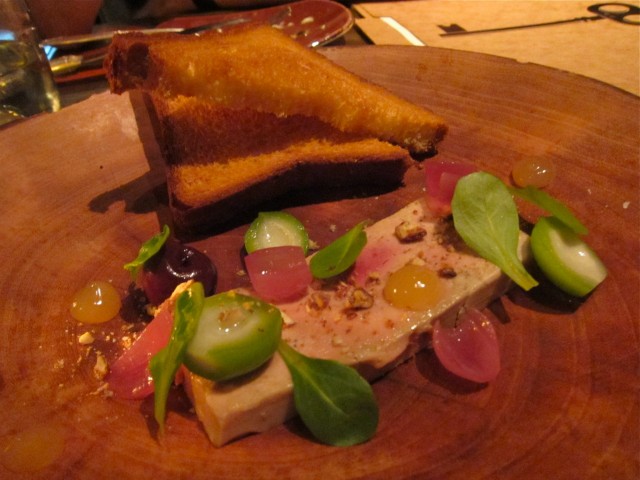 Jeff was full so we opted to skip to dessert. I could've eaten one more dish but I just hadn't been too impressed by anything so far so I chose to skip it. We got the yuzu semifreddo with peach sorbet and chili oil….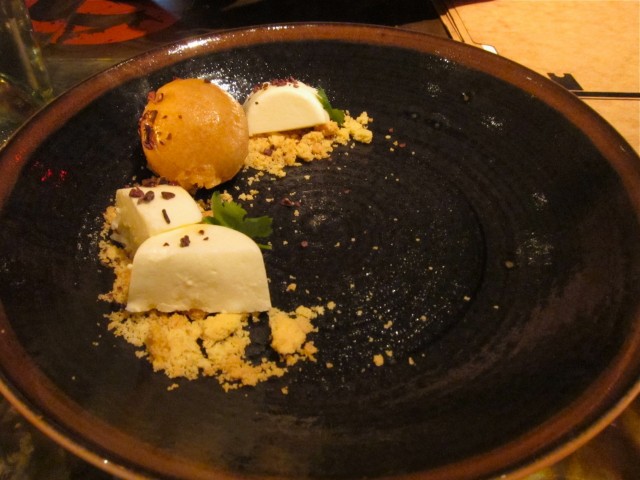 It was gross.
The semifreddo had almost no discernable flavor and the chili oil was CRAZY overpowering. The menu also didn't mention that there would be flavorless cracker crumbs and bitter cacao nibs, which is strange because chocolate is a common allergen and should always be mentioned up front. There was also one lone sprig of cilantro that completely freaked me out when I wasn't expecting it. None of the flavors in this dessert went together at all, it was really bizarre and easily the worst dessert I've ever had.
All in all, I wasn't too impressed with The Spence. It was incredibly noisy, so noisy that you kind of have to just give up on talking to each other until you leave. Our waiter kind of sucked too, he acted like he had just decided that we weren't going to order much from the beginning and that we were wasting his time. Maybe he was just having a bad night but his mood really seemed targeted at us. And maybe this is a weird thing to critique, but I hated the off-center plating of most of the dishes. I know it was intentional, but it didn't appear intentional. It always just looked like the food had slid to one side of the plate in between the kitchen and the table, made me feel like I was eating rejects.
So, not my favorite Atlanta restaurant. Sucks because there were so many yummy-sounding things on the menu that I wanted to come back and try, but now not so much.
Moving on…
We parked the car at home after dinner and walked into Decatur looking for a place to grab a nice cocktail or two and ended up at The Pinewood. We basically had the whole bar to ourselves, so we really were able to relax and talk and enjoy our drinks leisurely.
I started with the Pinewood cup. It's white whiskey, mint, sugar, bitter lemon soda, rhubarb bitters, and seasonal fruit. It was fruity and delicious with just enough booze.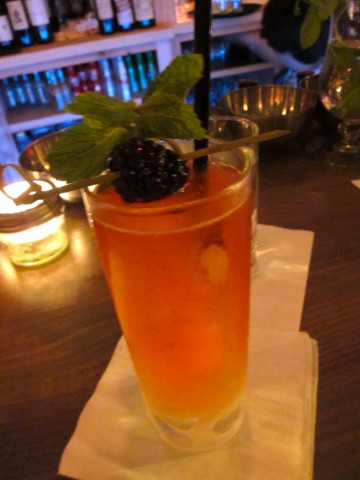 Jeff got a Brown Derby which includes bourbon, honey, and fresh grapefruit juice. He always orders well, I liked his better than mine!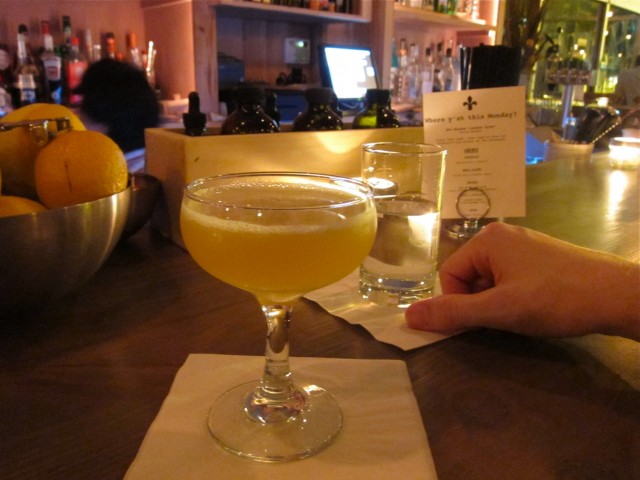 We were there long enough to try two more cocktails. He had a Dark and Stormy and I had a Porch Punch. The punch had peach and anise flavors; I really enjoyed it. Jeff's cocktail was extra gingery from its house made ginger beer.
We've actually been to The Pinewood once before with some friends, and I even took photos but never got around to blogging about it. The food we had on that occasion was all excellent. I remember some really stand-out fried green tomatoes and the creamiest broad bean hummus.
So if you're ever in Decatur, definitely give The Pinewood a try. The Spence though, I'm not sure if I would recommend as much.
It was a really nice date night though. I'm glad we're both feeling better and getting out and about again!
For my fellow Atlantans: What restaurant do you recommend we try next?
For Everyone: What's the worst dessert you've ever had?