I so appreciate all the congrats from you guys regarding the impending arrival of our little spawn. I am due next week and officially in "get all the things done!" mode.
I've heard over and over again the same advice to stock your house full of foods that are easy to eat one-handed for after baby's born and you're carrying him/her around everywhere all the time to keep 'em from screaming continuously. To that end, I decided to make some healthy raw-ish mint chocolate brownies to stuff in my face as needed. I say raw-ish because I didn't personally bother to use raw cacao powder or raw flavor extracts in these, but you absolutely could if that's important to you, it just wasn't for me. To me, this is raw enough.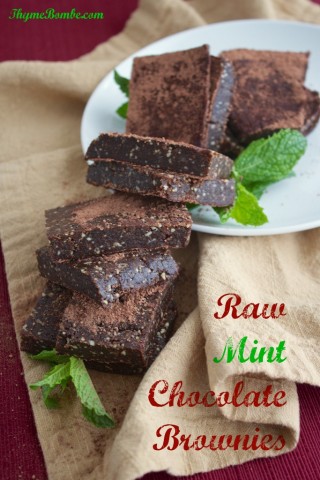 In fact, I'm letting a lot of things slide lately. Sometimes the dishes don't get done, and that's ok. Sometimes I get winded just making the bed and so I just stop half way through. Sometimes the thought of shopping for food makes me want to collapse into tears over a pint of ice cream, so I don't go and we order out for the 3rd time in a week. Sometimes… my perfectly plated stack of raw mint chocolate brownies topples over before I even get my first shot in, and with a sigh, I decide to just go with it rather than re-plating because it's a real and accurate depiction of how I'm feeling right now.
"Oh no! That one broke in half! I'll have to eat it since I can't possibly photograph it like that." (Totally happened)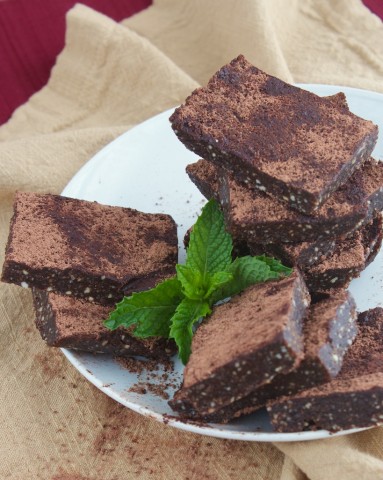 They may look a bit beat up, but I assure you these brownies were just as tasty after their tumble. They have a high moisture content, giving them a truly fudgey and rich texture. The mint flavor is subtle, herbal, and cuts through the richness nicely.
Raw mint chocolate brownies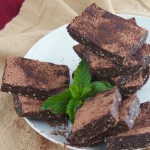 A no-bake and guilt-free chocolatey brownie with a hint of fresh mint.
Prep Time: 15 minutes
Total Time: 15 minutes
Yield: Makes 12
Ingredients
1 cup

raw unsalted cashews

1/2 cup

raw unsalted macadamia nuts

1/2 cup

raw unsalted walnuts

1 cup

chopped dates

2 cups

fresh mint leaves (tightly packed)

1/4 cup

unsweetened cocoa powder (+ more for dusting)

2 tsp.

chocolate extract

1 tsp.

raw agave nectar

pinch of

salt
Cooking Directions
In a food processor, process nuts until small. Add dates and pulse to combine.
Add all other ingredients and process until a paste forms and starts to pull away from the sides.
Press mixture evenly into a 9x9 pan lined with plastic wrap or wax paper.
Dust over extra cocoa powder and freeze for at least an hour.
Store in an air-tight container in the refrigerator or freezer.
If you would prefer a stronger mint flavor, simply substitute one of the teaspoons of chocolate extract for a mint extract instead. Also, vanilla will be fine if you can't find chocolate extract too. And if you don't have one of those nut varieties, just sub in more of one of the others. I like to use macadamias in raw desserts that imitate something that is typically baked because they lend a convincing buttery flavor and texture. I chose walnuts because they tend to deepen chocolate flavors. If all you have is cashews though, it'll be fine.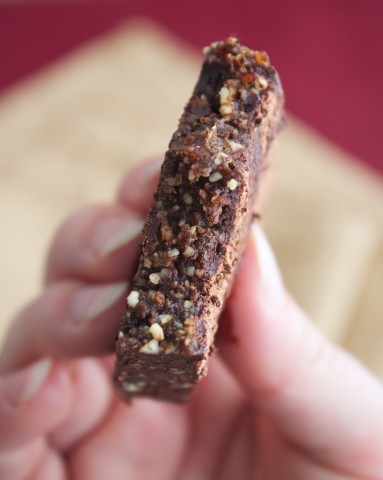 I personally like to store these in the freezer and eat them ice cold. They can be messy and melty at room temperature, and the cold makes the mint flavor pop in a cooling and refreshing way. These will be great to hold me over while the little lady is eating her breakfast, and when she's done I can worry about making something more substantial to eat.
It's gotten to the point now where I'm on edge all day expecting labor to start at any moment. On that note, I should probably go pack for the hospital, or clean, or draft a living will or something…