Awesome dinner last night with my wonderful in-laws.
Jeff and I met up with his parents at Canoe in early celebration of their anniversary and also for my birthday (I'll be 27 on Tuesday, woo!)
Canoe is a gorgeous restaurant situated right next to the Chattahoochee River with beautifully landscaped lawns for strolling in the springtime when the dogwoods blossom and hang low over the river and geese grunt their territorial protestations from the manicured flower beds.
Being that it's winter though, we did no strolling. But luckily, Canoe has so much more to offer than a pretty view. Their menu, focusing on fresh fish, house-grown vegetables and herbs, and succulent game meats, is fantastic and makes it an impossible task to choose something ho-hum.
We started with a breadbasket of sourdough, cranberry-walnut bread, and a spicy jalapeno flatbread. The flatbread was my favorite, it was an explosion of buttery flavor followed by a creeping heat.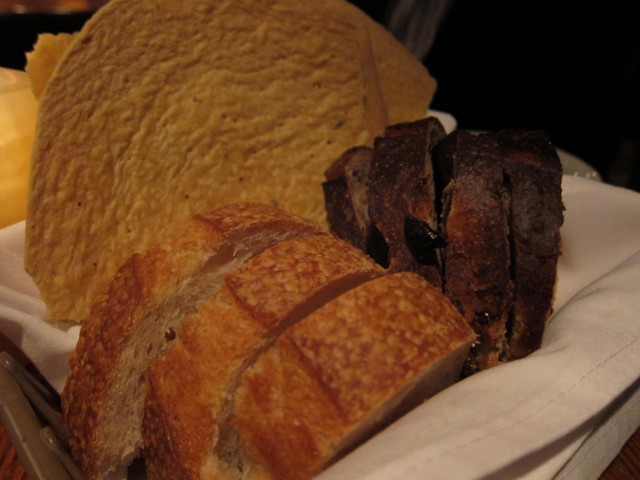 I had a Calvados Punch, an apple-flavored cocktail that was deceptively fruity.
And Jeff ordered an Old Fashioned with Blanton's bourbon.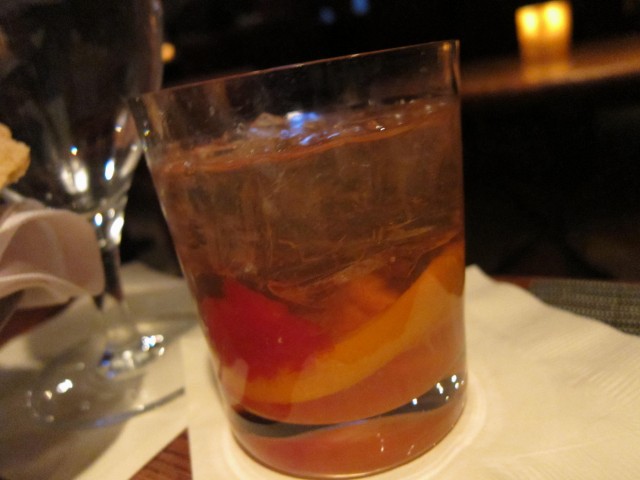 For starters, I got the artisan cheese salad. Jeff's mom, Nancy, got the same. I don't think either of us were expecting the giant wheel of cheese and explosion of bacon that arrived and both of us ended up pawning off some of the richness on Jeff, who was only too happy to finish it off. It was delicious though, I wish I had asked what the cheese was because it was easily one of the yummiest I've ever had.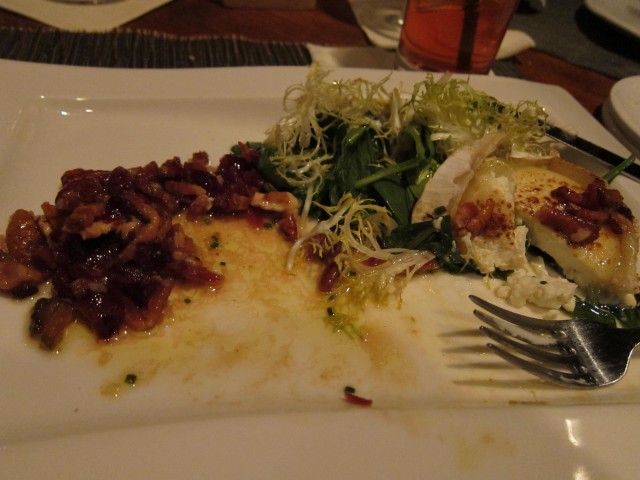 I got the special for my main course which was a macadamia crusted grouper with crispy rice, brussels and mushrooms, basil oil, and some sort of creamy sauce that was crazy-good.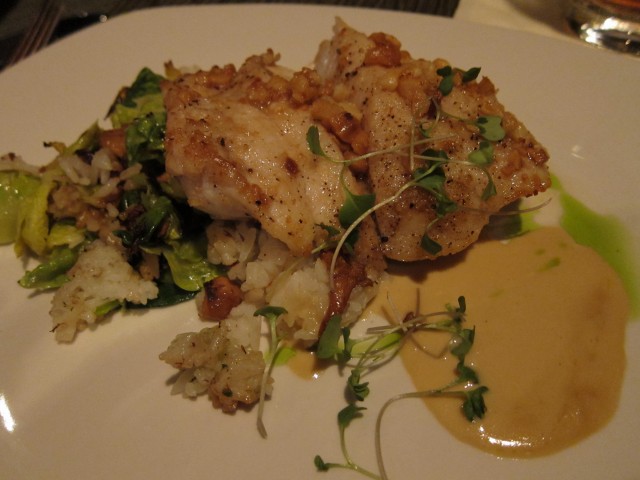 Jeff got the duck breast. You can pretty much bet on Jeff ordering duck if it's offered on any menu. I'm not a huge fan of it personally, and this breast was much too rare for me. He loved it though, along with the veggie and duck sausage stuffed crepe and sweet chili and fruit sauce.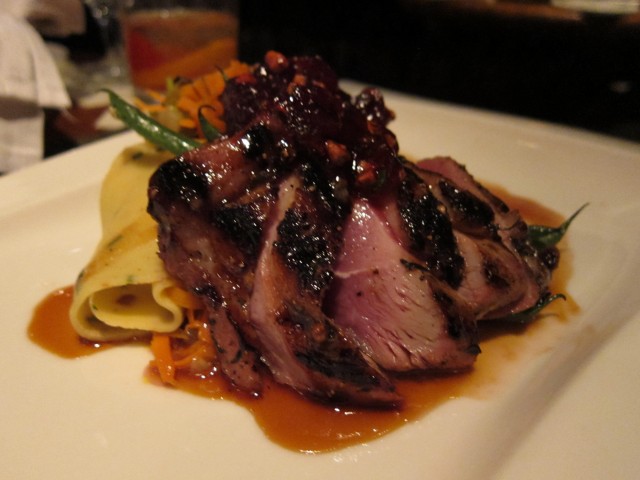 Ok, I'm sharing everyone's meals because they were just so good. Nancy had the salmon with baby spinach and spaghetti squash and a citrus pecan vinaigrette.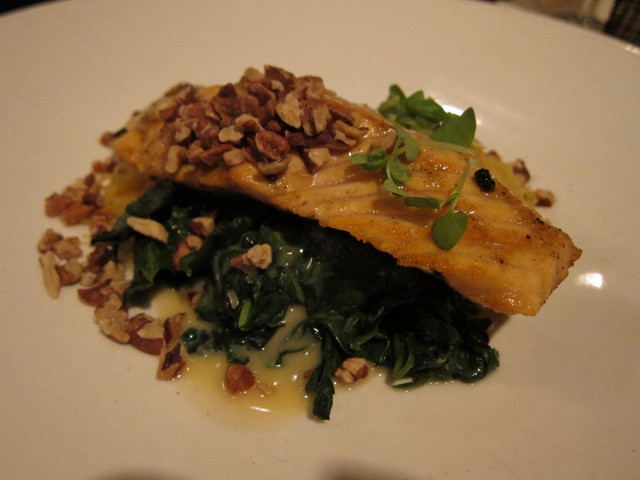 Mike got the rabbit with swiss chard, bacon ravioli, sweet potato hash, and candied garlic sauce. I've had this entree before years ago and I know that it's a hit. The slow-roasted rabbit reminds me of soft and sweet pulled pork barbeque.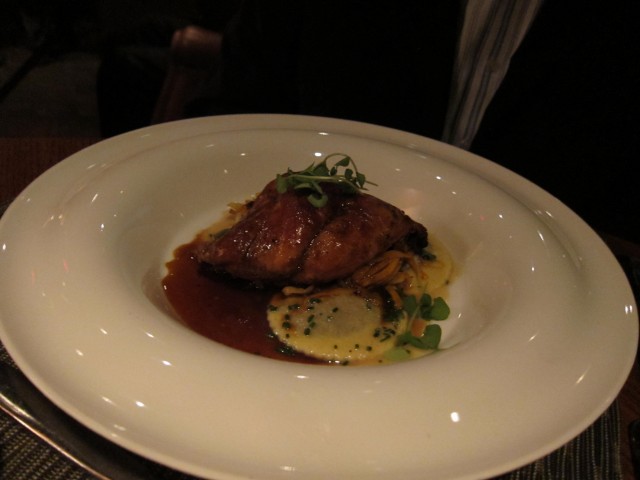 For dessert, we shared the chocolate chestnut roulade. A super-soft slice of clove-tinged pinwheel cake with chestnut creme, chocolate frosting, cracked macarons, and creme anglaise.
I could've made a meal out of this! It was everything I look for in a perfect dessert; cooling, creamy, soft, and luscious.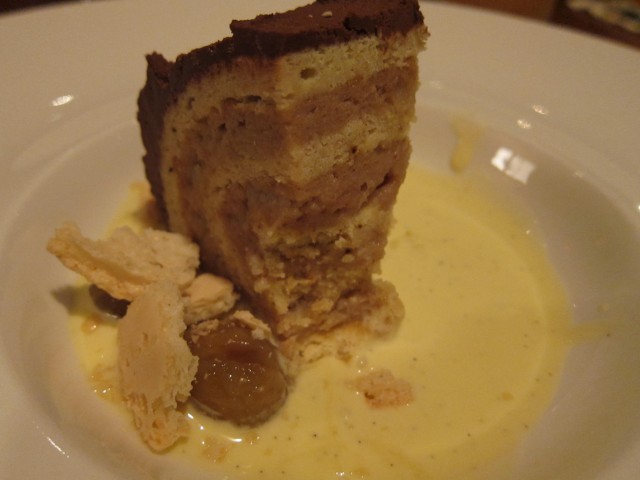 Jeff knows that it's a husbands job to relinquish most of the dessert to the wife. 😉
We had a really great time together and a fantastic meal.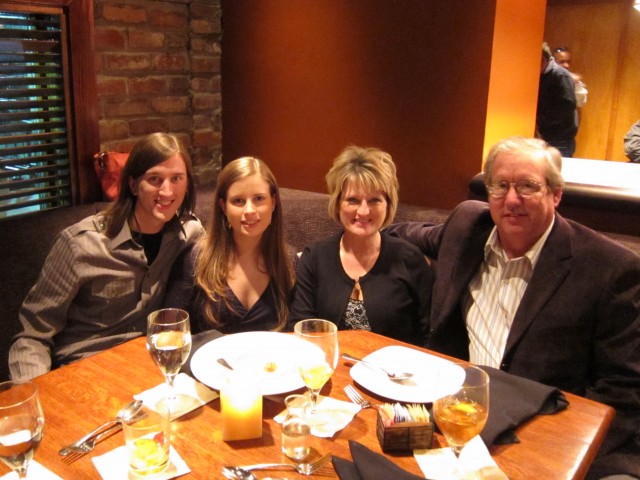 Love these guys!