I'm starting a new series called "Bar Exam" where I review one of the plethora of varied and sundry snack bars on the market right now.
I would eat a lemon Larabar every day if it wouldn't totally break our grocery budget. It'll be fun to try all these bars that I never buy because I feel they're too expensive to take a chance on. Who knows, maybe I'll find a new favorite?
(This review was completely unsolicited and reflects my true opinions about the product.)
I picked up this Pom Bar at Whole Foods. I haven't heard of this one before, but anything with "yogurt" in the title will get my attention.
Can you see my camera reflected in the wrapper?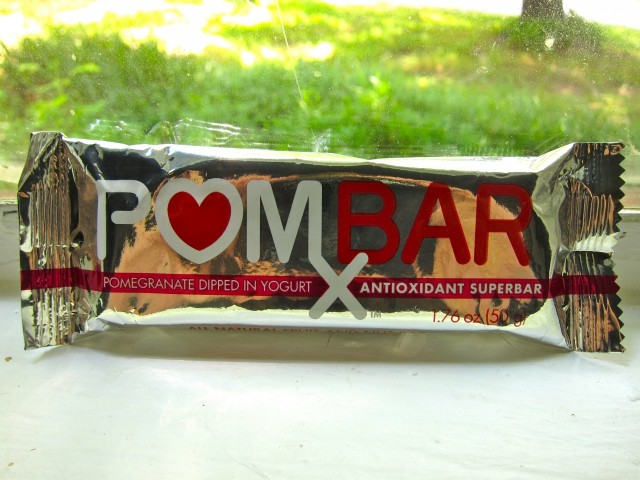 This bar is 210 calories, about what I expect from a snack bar. It has only 3 grams of protein so it wouldn't make for a good after-workout protein bar, though it doesn't claim to be one. It does have a whopping 28 grams of sugar. That's pretty high and I'm sure the yogurt coating has a lot to do with that.
The ingredient list has around 15 items but nothing that sounds any alarms for me as being terribly unhealthy. It does contain whey in the yogurt coating so it's not vegan, but again it never claims to be.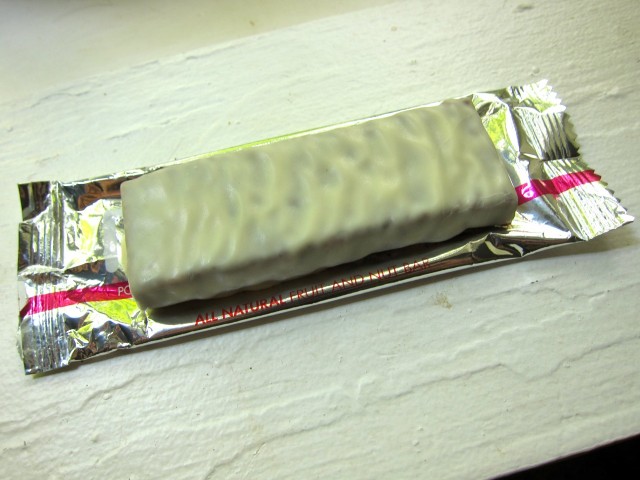 Appearance: It's a good size for a snack and I'm glad that it wasn't tiny compared to the packaging. That always drives me crazy when the product is so much smaller than advertised, but this one met expectations. The yogurt coating looked smooth and not oily.
Taste: Mmmm! The filling is slightly tart and definitely tastes like pomegranate. The yogurt is smooth and not-too-sweet and has a slight tanginess like real yogurt.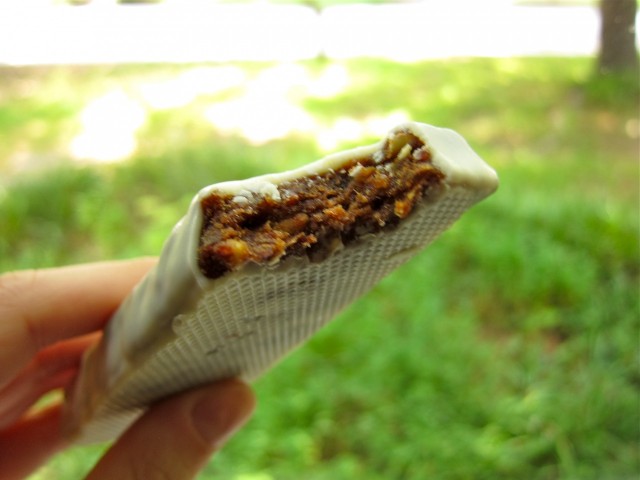 Texture: Being mostly dates, it has the similar smooth texture of a Larabar, but with smaller pieces of nuts. There is what feels like strawberry seeds in it, that's not what it is but it definitely has the same feeling of tiny popping crunchiness that you get from dried raspberries or strawberries. There is no graininess or oiliness in the yogurt.
Overall I really like this bar. Being that it has so much sugar though, I would probably only eat these as a dessert replacement when I'm craving something sweet at night. Luckily it's delicious enough to actually be satisfying as a dessert. I can definitely see myself buying one of these again, though rarely.
Any recommendations for bars I should try?