Hope everyone enjoyed their weekend!
We had a bit of an unusual one. On Saturday we attended a yo-yo competition!…….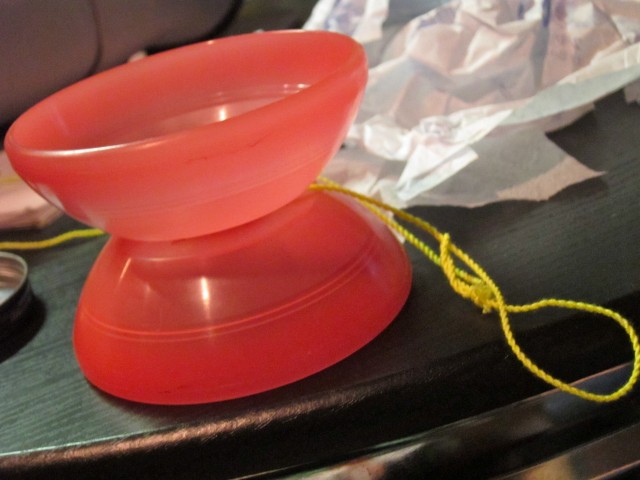 We heard about it online from someone that was hosting it and decided to drop in and see what it was all about. It was at PushPush Theater near downtown Decatur and was basically several hours of competitive yo-yoing! We got there towards the end so we got to see about an hour of competition and the winners announced.
There were kids of all ages with some pretty impressive yo-yo collections…..
One kid even won a $200 yo-yo! I didn't realize there was such a thing as a $200 yo-yo, but apparently there is.
The competitors twist and flip the yo-yos so fast that I couldn't even snap any photos of the action. It was pretty amazing to watch and I'm so glad we took a chance on checking out this unusual activity because it was a blast to watch and the music was rockin'.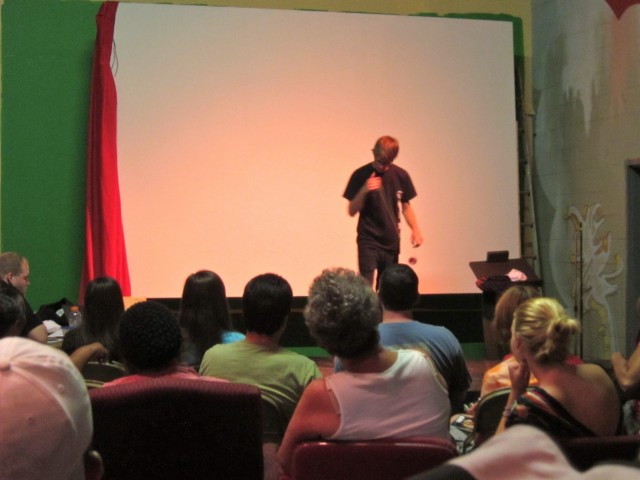 I almost bought a yo-yo while we were there but I restrained myself.

That night we went out on a little date to a restaurant I've been hearing rave reviews about from so many people – Escorpion.
This place is known for their tacos and ceviches. But first, they started us out with an amazing salsa, you could tell that the ingredients in it were roasted and charred, very interesting.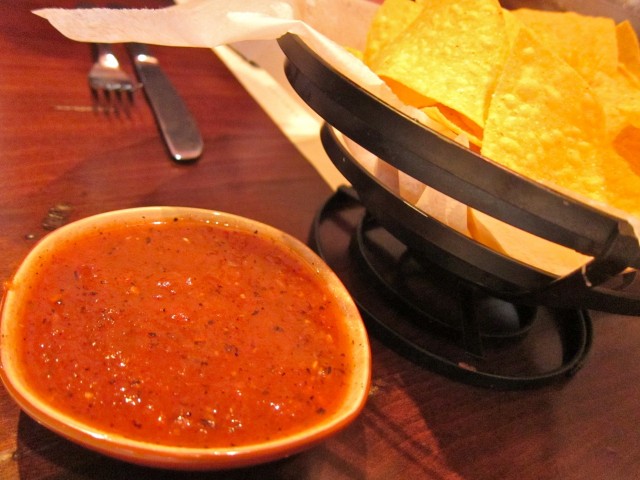 The cocktail menu was too good to pass up. I got a drink called the El Chamuco that had tequila, blackberry and cassis in it. It was fantastic! So often drinks like this can be thick and syrupy, but this one tasted fresh and crisp. Jeff got a cocktail infused with rosemary. It had just a hint of herbal flavor without hitting you over the head.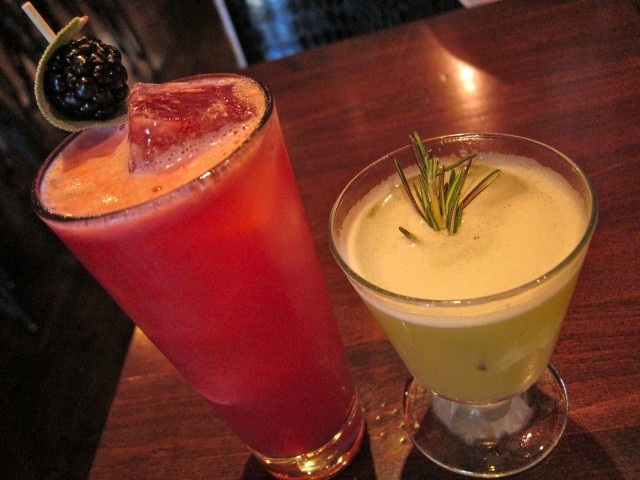 The first thing we ordered was the tuna and watermelon ceviche with serrano chilis and smoked sea salt…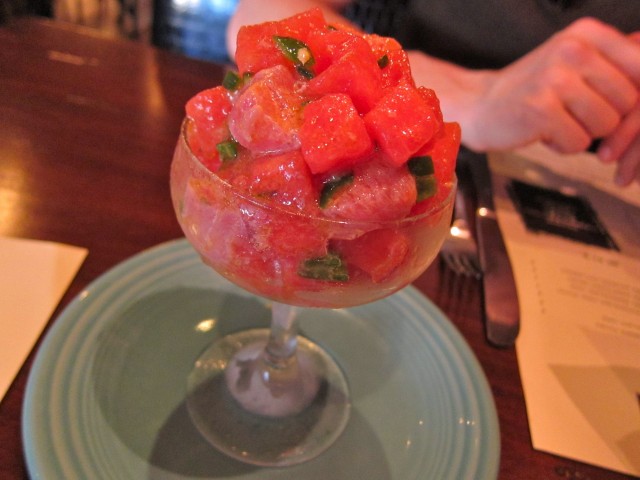 Isn't it beautiful?!?!
This was incredible. We were both unsure of how the watermelon would go with the tuna, but combined with the sour and salty brine it was the perfect balance of flavors.
Then we got three tacos to share. Clockwise from the back these are goat, grilled shrimp, and beef tongue.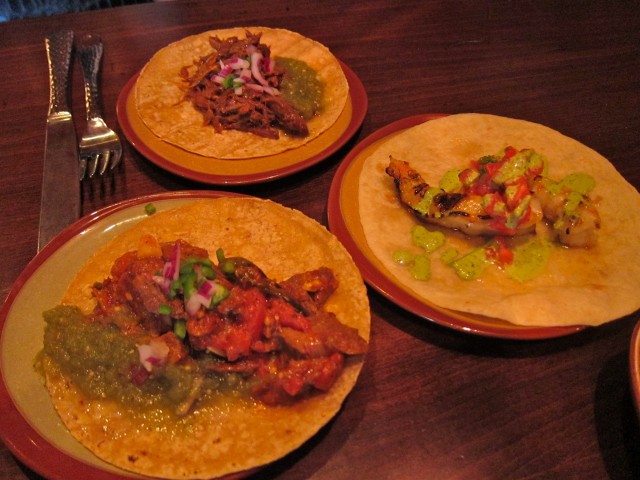 Unusual, right?
The goat had a flavor like it had been stewed in milk, very flavorful. The shrimp were perfectly bouncy and you could taste the slight char from the grill. The tongue was my favorite. If you've never tried tongue you are missing out, it is one of my favorite meats. It is meltingly soft and has a buttery flavor, delicious!
We also shared a pork tamale. Sadly, this wasn't wonderful. Usually tamales have the problem of having too much masa and not enough meat. This one had the opposite problem, it was almost entirely a giant slab of flavorless overcooked pork with very little masa to balance it out. It wasn't awful, just a little dry and heavy.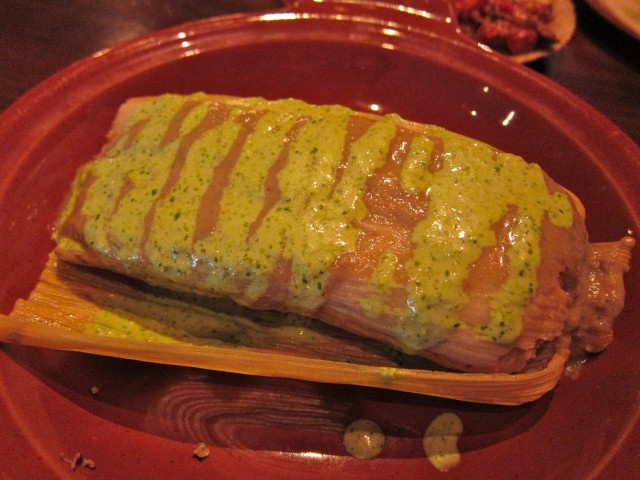 We were having such a good time that we ended up ordering two more cocktails to chill out with. Jeff got the traditional margarita which was easily the best margarita I've ever tasted, mellow and not too sour. I got a drink called La Dahlia that had hibiscus syrup in it. I felt like such a girl with my sweet pink drink. 😉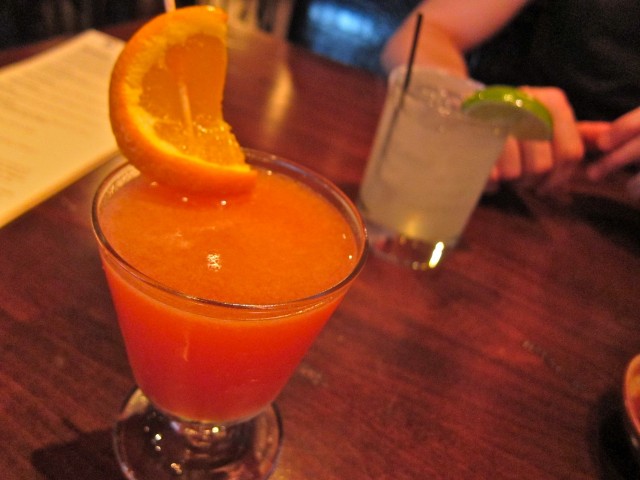 Overall, I was knocked over by how awesome Escorpion was. We will definitely be back!
A weekend of yo-yos and tongue tacos, definitely a little different. 😉
Do you have any unusual hobbies?