Ah! It feels good to blog again! I really think I'm inspired to keep on a schedule now.
I'm so glad to be able to focus my attentions on other things again. I've been so focused on the move and some other stuff going on in our lives for so long now that I couldn't even bring myself to cook anything new. Seriously, we've been surviving on the same few dishes for months. It was definitely time to try something new.
I made this awesome turkey mushroom bake a couple nights ago that I've just got to share with you because it is so delicious!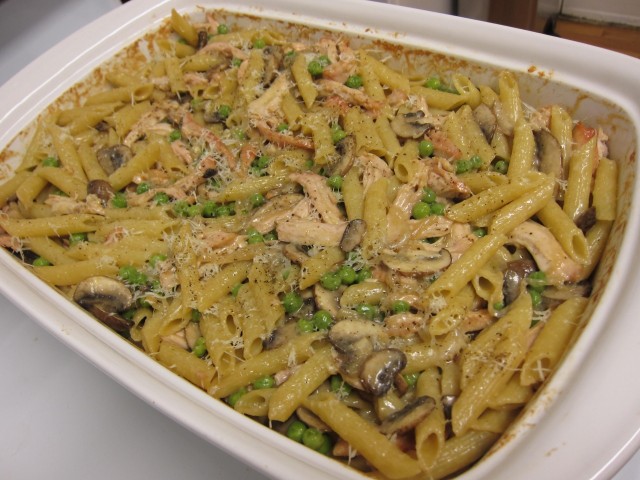 Turkey Mushroom Bake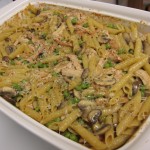 A filling pasta bake with turkey and peas in a thick onion and mushroom gravy.
Prep Time: 1 hour
Cook Time: 20 minutes
Total Time: 1 hour, 20 minutes
Yield: 6 to 8 servings
Ingredients
2

turkey breast filets

half a box of

dried penne pasta

approx. 1 cup

frozen peas

approx. 2 cups

crimini mushrooms (sliced)

1 medium

onion (sliced)

2 large cloves of

garlic (minced)

4 tbsp.

butter

4 tbsp.

flour

1/2 cup

sour cream

2 cups

vegetable stock

olive oil, salt, and pepper

as needed

parmesan

for grating over top
Cooking Directions
Roast the turkey coated in olive oil on a foil-lined baking sheet for 40 minutes at 400 degrees. When turkey is cool enough to handle, shred with hands or a fork into small pieces.
Boil pasta and peas together until done and drain.
In a large non-stick pan, saute onions in butter until translucent then add garlic and mushrooms. Cook until softened.
Sprinkle over flour and stir in until it makes a thick paste with the onions and mushrooms. Add in vegetable stock and stir until the flour paste in smoothly incorporated. Stir in sour cream. Salt and pepper to taste.
Fill a 9x13 baking dish with the pasta, peas, and shredded turkey. Pour over the mushroom sauce and stir to combine.
Grate over parmesan cheese and bake at 350 degrees for 20 minutes.
One way I've made this recipe quicker is to roast the turkey ahead of time. I like to buy a huge full turkey breast and cut it into 6 filets, then roast them all or save a few for dinners throughout the week. Then I can shred up all the roasted turkey and either freeze it or use it in other dishes. It really doesn't take a lot of effort up front but saves me lots of time later when I have delicious roasted turkey on hand to use whenever I need.
I've also been getting ready for fall, which for me means a freezer full of pumpkin puree. I roasted this little organic pumpkin and I'm going to roast the seeds in a day or two as well. The big one will be a jack-o-lantern since we'll undoubtedly get trick-or-treaters this year.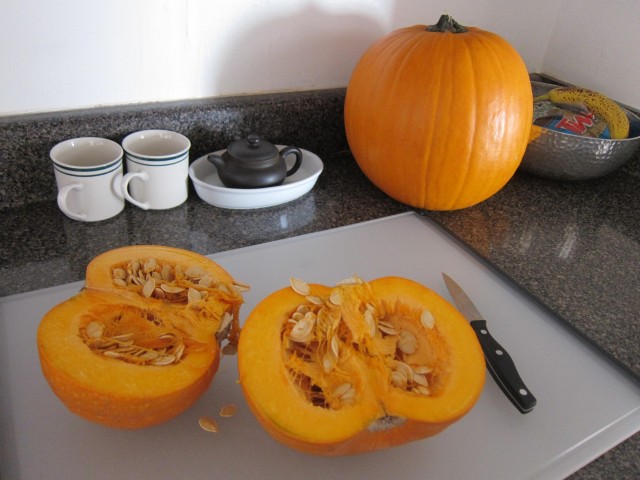 It's getting really cold here too, almost time to turn on the heat. I've been trying to put that off as long as possible to save us some money, so the cats are having to find creative ways to keep themselves warm….like by falling asleep in the warm clean laundry.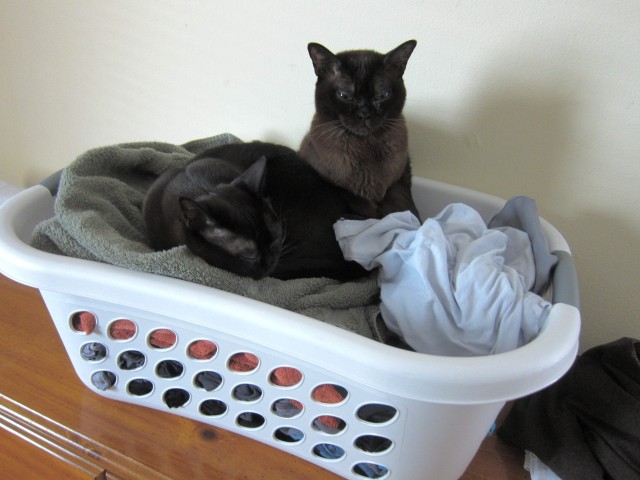 YARN!!!!!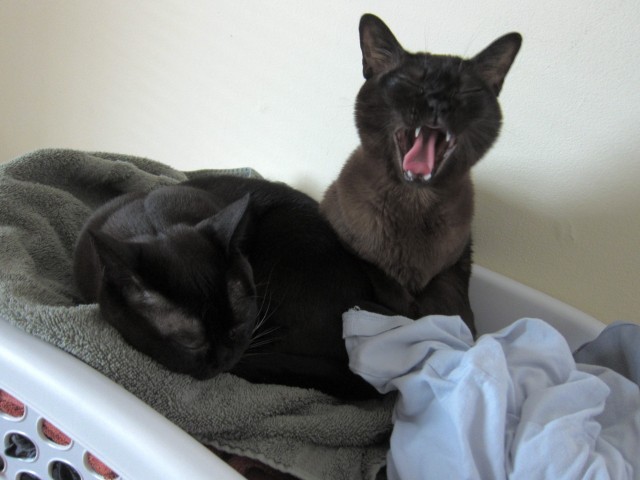 I'm just going to end up covered in their fur anyway, might as well save myself a step and apply the fur directly to the clothes as soon as they come out of the dryer. It's easier that way. 😉
This weekends project: Finish sweeping out the basement and possibly even mop it, then bring down all the stuff we intend to store in it so that we can actually use that second bedroom for something. Yoga studio? I think so.
Where is the strangest place you've found your pet asleep?