What are your top 5 favorite foods?
It's so hard to choose. I know avocado would be on that list, but filling in those other 4 spots gets fuzzy. Eggs? Yogurt? Strawberries? I like all of those things and eat them frequently, but I don't know if they count as favorites just because I eat so much of them.
I think I could pretty confidently put mushrooms on that list though. My love for mushrooms is deep and passionate. I love the way they smell, the way they feel, the rubbery sound they make when you slice into them, and of course I love the flavor. I simply swoon over dark, earthy, smoky flavors. A hot cup of pu-erh tea. An oily glass of scotch. B-grade maple syrup. Crisp bacon. Miso…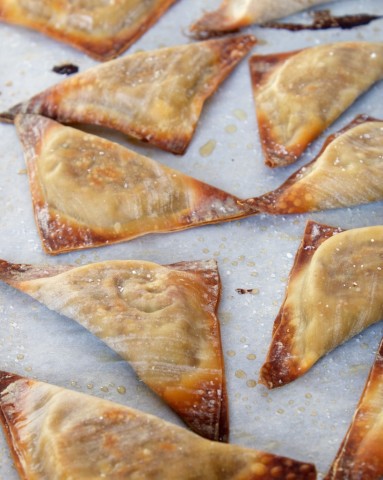 I have tried so many mushrooms in search of my favorite, and among many fine contenders, that title deservedly goes to the shiitake. It's just perfect. No trace of muddiness, a little sweet, and with a strong earthy perfume that can knock you over if you inhale too eagerly.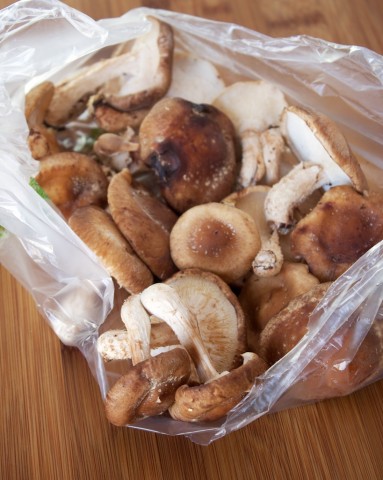 I'm always looking for new ways to use shiitakes so that I can savor them in endless ways. This is a recipe that's been on my mind for a while but that I've only just now gotten around to testing out. I decided to bake these shiitake wontons because I hate deep frying. It's such a process and then there's the whole ordeal of figuring out how to store the leftover oil when you're done. Not to mention, it's not the healthiest cooking method.
I think people get similarly intimidated by making dumplings (filled wontons totally count as dumplings.) It's just so not a big deal once you try it. Just make a filling, put a dollop of it onto the wrapper, wet one edge and fold it over, press firmly and you have a dumpling. Repeat that a few more times and you have a meal. I used to make pork potstickers for dinner all the time and it was one of my quickest to put together meals. Once you get over the fear of it, you see that it's really very simple.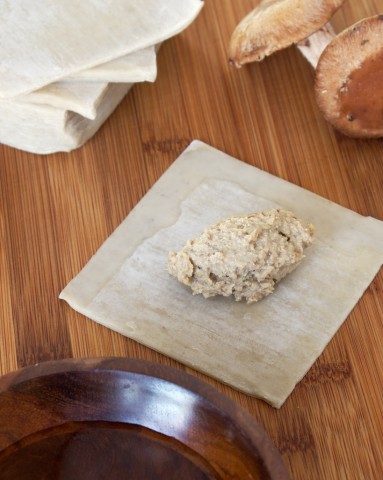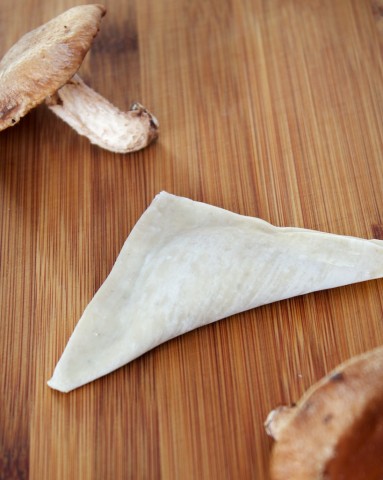 If you've never tried making dumplings before, this recipe is a good place to start. The filling comes together quickly and the oven does all the work of crisping these little babies up. And the smell in the kitchen! If you love the smell of mushrooms as much as I do, you'll be positively enamored with the aroma that'll be wafting through the house as these bake. It's warm and woody and damp and dark.
Baked shiitake wontons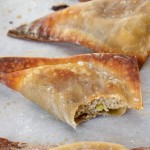 Crispy wontons are baked rather than fried and filled with an earthy mixture of shiitake mushrooms and tofu.
Prep Time: 10 minutes
Cook Time: 20 minutes
Total Time: 30 minutes
Ingredients
a half block (8oz.)

firm tofu

6oz.

shiitake mushroom caps (remove stems)

2 large

scallions (chopped)

1 large

clove of garlic

2 tsp.

soy sauce

1 tsp.

mirin

1 package frozen

wonton wrappers

spray

canola oil or other flavorless spray oil

salt

to taste
Cooking Directions
Allow wonton wrappers to thaw on the counter for about an hour to become pliable before use.
Break apart tofu into a tea towel and wring as much of the liquid out as you possibly can.
Add the tofu, along with the shiitake mushroom caps, the scallions, and the garlic to a food processor and pulse to combine.
Add soy sauce and mirin and process until a mousse-like texture is achieved.
Apply a small teaspoon-sized amount of the mixture to the center of a wonton wrapper, dab a small amount of water onto 2 adjoining edges, fold over into a triangle, and press around the edges to seal.
Arrange wontons on a baking sheet lined with parchment paper and spray liberally with a canola oil spray or other flavorless oil spray.
Bake in a 400 degree oven for 12 minutes on the first side, flip wontons over and spray again with oil, then bake for an additional 8 minutes.
Sprinkle wontons with salt as soon as they come out of the oven, while still hot.
Protip: Don't eat shiitake stems! They're edible but really twiggy and unpleasant. The measurement for the shiitakes in the recipe above is for the weight of the caps alone, remove stems before measuring! And if you don't have a kitchen scale to weigh out the correct amount, just shoot for around 20 or so medium sized caps. A little more or less is totally fine.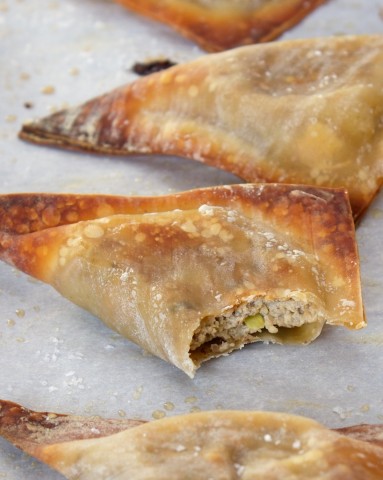 I am extremely fortunate to be able to buy shiitakes for a very low price at a local market – I can get a whole bag full of them for around $3. This allows me to load up on the little gems every week and feast on them to my heart's delight. I've seen them listed very expensively at most places though, so if shiitakes are prohibitively expensive in your neck of the woods, just substitute half of them with criminis. Not white button mushrooms though. Button mushrooms have their place, that place is on pizzas, sliced on salads, and occasionally as filler in a creamy mushroom sauce alongside a better mushroom – like the crimini. Not to mention button mushrooms are always so filthy! The leathery texture of shiitake caps seems to naturally repel dirt, so there's another point in their favor.
Hope you love these as much as I did. Reheat them in a toaster oven to bring back that crispiness, if there even are any leftovers!
Are you a mushroom lover? What are some of your top 5 favorite foods?