It may come as a surprise to some that I actually consume a fair bit of raw foods. I don't follow a raw food diet at all, but I do try to get plenty of fresh fruits and vegetables, nuts, and healthy fats into my diet as often as I can, and in as close to their natural states as possible. It will come as a surprise to no one though, that I love sweets. LOVE sweets. I could subsist on sweets alone if it wouldn't eventually kill me.
Discovering raw foods has been like finding a massive loophole in the system. Cake for breakfast? Don't mind if I do. Oh, and it's healthy, you say? Well that's a horse of a different color!
Raw food desserts really are both delicious and healthy, as long as you eat them in reasonable portions. Like any other food, too much of a good thing can be bad. But, if you get a mid-afternoon craving for a sweet snack and reach for a raw whole food treat rather than a processed cookie, you can get all the satisfaction of a decadent dessert without feeling guilty.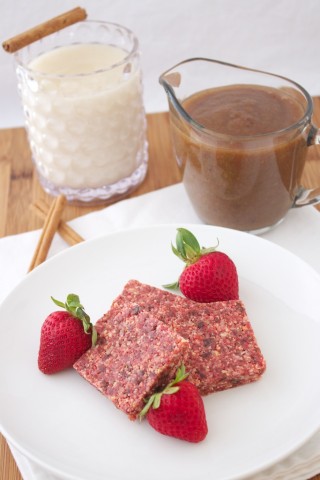 I actually discovered blogs when I found a few vegan and raw food sites through StumbleUpon many years ago. Health and food were not really even on my radar back then, but I was drawn in by the beautiful and colorful food I saw on these first few blogs. It spiralled out from there as I sought to find more and more interesting blogs on the topic of food.
One of my early favorites was Almost Vegan, written by Amber Shea Crawley. Amber's refreshingly offbeat personality and her enthusiasm for healthy but delicious food was infectious, and I've found myself excitedly following her career over the last few years as she's transitioned from eager home cook, to professionally trained raw chef, to a twice-published cookbook author with a successful self-titled vegan blog, Chef Amber Shea.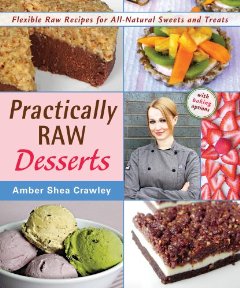 I already have and love Amber's first cookbook, Practically Raw, so I was thrilled when she announced that she was writing a follow-up cookbook focusing entirely on desserts. Practically Raw Desserts is just as lovely as Practically Raw, and I couldn't wait to try a few of the recipes immediately.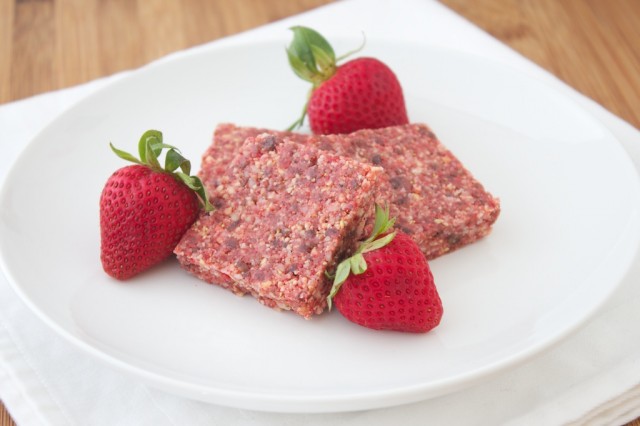 The recipe that caught my eye first was the one for Strawberry Blondies. Amber is kind of famous for her original raw blondie recipe, which I reviewed on the blog a few years back (please excuse the terrible photos in that post, I hadn't gotten into photography yet.) Those raw blondies were so satisfying as a real dessert, with their buttery richness and golden flavor convincingly mimicking the flavor of a baked blondie. Of course, I couldn't wait to try them with the addition of my favorite fruit.
They are soooo good guys. The addition of a little bit of vanilla extract really rounds out the tart fruit flavor, making it taste more like strawberries and cream. I've been eating one of these every day since I made them and they've really helped to satisfy my cravings for sweet treats.
I went ahead and whipped up a few other quick recipes from the book too. This oat milk, pictured below, was great with a dash of cinnamon over a bowl of puffed wheat and fruit. Also, I sweetened the oat milk with another of Amber's recipes, date syrup (in the first picture up top.) I made the syrup to use on pancakes this weekend, but it worked great to lightly sweeten the oat milk too.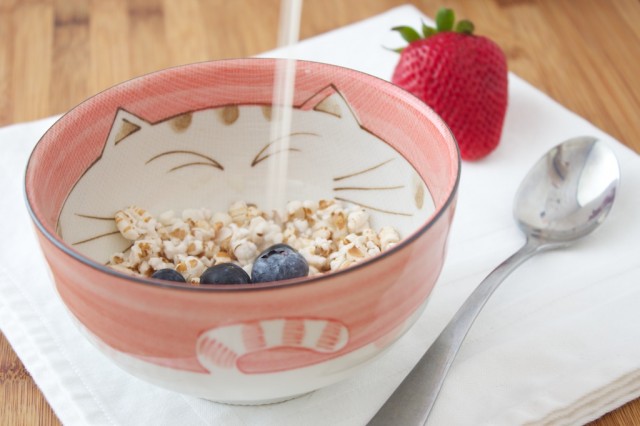 That leads me to one of my favorite things about the book: Amber has taken the time to list variations, substitutions, and alternative cooking methods for all of her recipes. After reading a few of the recipes and seeing the substitutions listed, I didn't have to wonder if I could sweeten that oat milk with date syrup, it had become obvious with how versatile and interchangeable her recipes are that I could do it and that it would work perfectly. I really appreciate the confidence this approach instills in the reader, that's it's totally ok to just use whatever you have or whatever you prefer to make the recipe work for you.
Another thing I love is that the vast majority of the ingredients used are relatively common. The only ingredient I'm having trouble finding is coconut flour, but like I've already pointed out, I'm confident that I could just replace it with a nut or seed flour of my choosing and have it work perfectly in any recipe that featured coconut flour. I like that I don't have to make a special trip to a health foods store to start enjoying the recipes right away.
So, I'm recommending Amber's cookbook, Practically Raw Desserts, not only because I consider her a friend and want her to succeed, but because I think she's turned out a truly quality product that can appeal to a much broader audience than just the avid raw food community. If you're interested in making healthy desserts at home with minimal equipment needed, few hard-to-find ingredients, endless variations and substitutions, and NO baking required, then pick up Practically Raw Desserts on Amazon, or learn more about it here.
For a few of my own raw dessert recipes, try these on for size:
Raw vegan orange pistachio bars