As promised, I wanted to share with you the recipes from yesterday's post, starting with the most amazing lamb roast ever. This is a Jamie Oliver recipe so I'm not going to completely repost it from his site, but just walk you through the steps to show you how incredibly easy it is.
His recipe calls for a lamb shoulder but I haven't been able to find that cut anywhere so I ended up going with a portion from the upper leg. If you can't find lamb, a large cut of beef or pork would work just fine.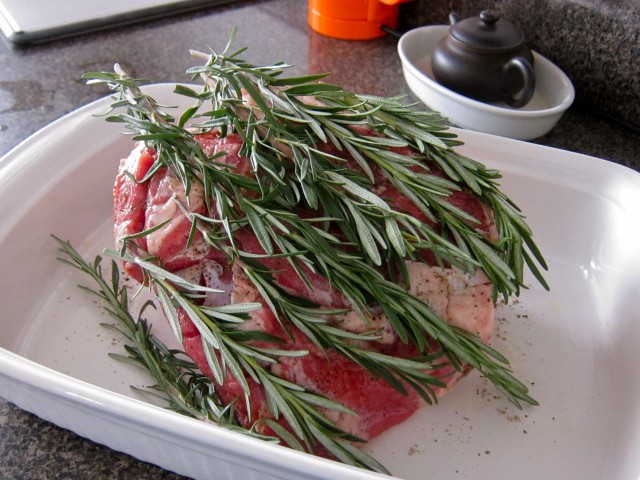 Start by patting the roast dry with some paper towels and trimming most of the excess fat, but leaving a little here and there to keep it moist while it roasts. Cut long deep slices across the meat horizontally and then vertically, making a grid in the flesh. Salt and pepper the crap out of it, making sure to get the seasonings into the grooves you've just cut, and then rub it all over with a thin coating of olive oil. Lay over about 8 to 10 whole sprigs of rosemary.
Next up, peel and entire head of garlic. No, for real.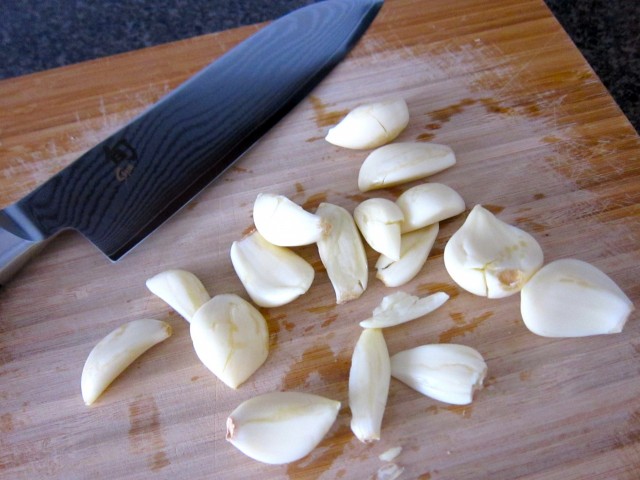 I find it's easiest to break it into cloves with my hands and then bash each clove with the butt of my knife to loosen them from the peels. They slip out pretty effortlessly if you've done a good job of beating them into submission.
Next, tuck the cloves into the slices all over the lamb and just chuck any extras into the roasting pan.
At this point, Jamie would instruct you to turn your oven on "full whack," which I think is a very charming thing to say and which for me means to turn my oven up to 500 degrees.
Cover your roasting dish with a sheet or two of aluminum foil and poke holes all over. When the oven has finished heating up to a fiery inferno, put in the roast and immediately turn the temperature down to 325 degrees. Let him bake for at least 3 hours and up to 4 if your roast is bigger than mine. Your house is going to smell amazing.
When it's ready to come out, it'll look like this…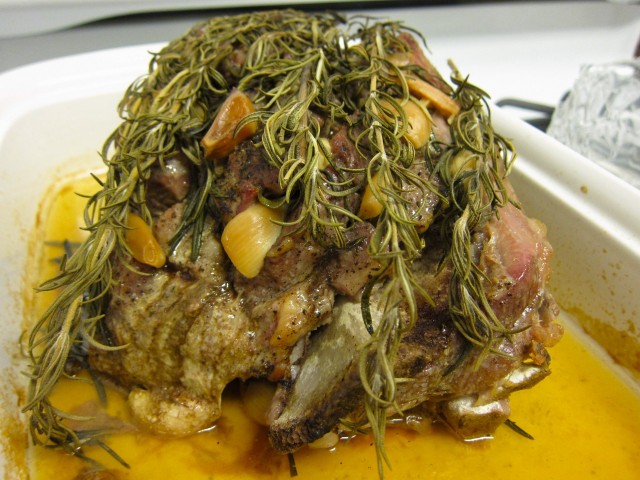 It'll be swimming in delicious lamb fat and juices and the meat will be pulling away from the bone. Discard the rosemary and get ready to shred it.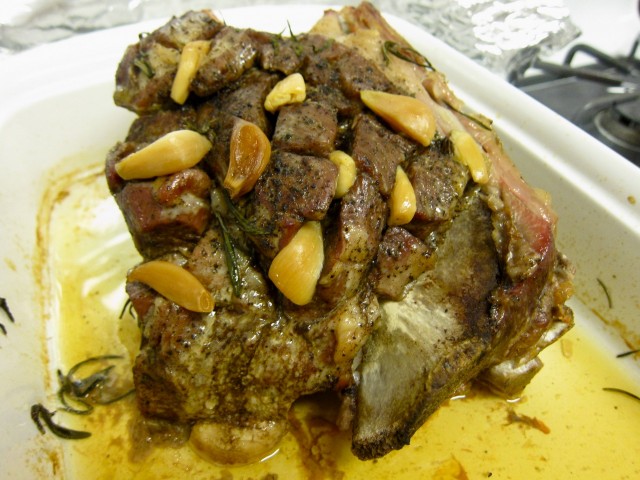 You can either pick out all the cloves of garlic and use them separately, or you can shred them right into the meat. They are so soft that they're barely holding together at this point. I love roasted garlic with an intense passion so I like to eat them whole as if they were a side dish.

Just transfer the roast to a cutting board and, using a fork to hold it still, pull off chunks of meat with a pair of sturdy tongs. It should come off pretty easily though you may have to pick at it a bit around the bone.
This roast is excellent by itself, but it was even more special with the miso shiitake gravy that I'll be sharing with you tomorrow.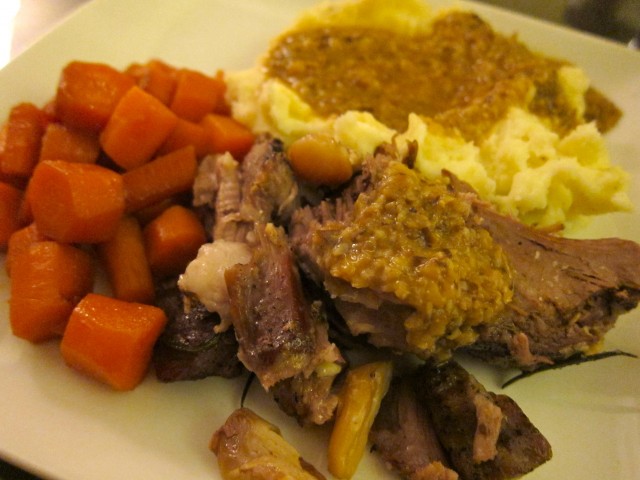 It's a real show stopper of a recipe and it really only takes 10 minutes or so to put together before the oven does all the rest. You can even prep it a day ahead of time and stash it in the fridge until it's time to start cooking.
I hope you try it next time you need to impress a guest!
What is your favorite roasted dish?