These days, I'm starting to understand the appeal of meals that can be made quickly. I still love to cook, but I don't get the same thrill out of making some elaborate dish that takes 2 hours to put together as I used to. For a special occasion it's still totally fine to put in the extra time and effort to make something special, but for regular weekly dinners I really just want to spend the least amount of time possible without sacrificing quality.
I'm learning that sometimes if I spend a little extra time on the weekend to prep something that takes a while, I can then reap the rewards of that time investment during the week when I'm trying to put dinner together quickly. Just last weekend I roasted 5 turkey filets and shredded them up to use throughout the week. Some of it was immediately used in the turkey and mushroom bake that I made and the rest was frozen for later.
Yesterday, I did the same thing by making a huge batch of gnocchi using this recipe. I did boil the potatoes though rather than roasting them as the recipe recommended, also in an effort to save time. With about an hour or so of total work, I had not only enough gnocchi for dinner last night, but also this whole tray of it to freeze for another time.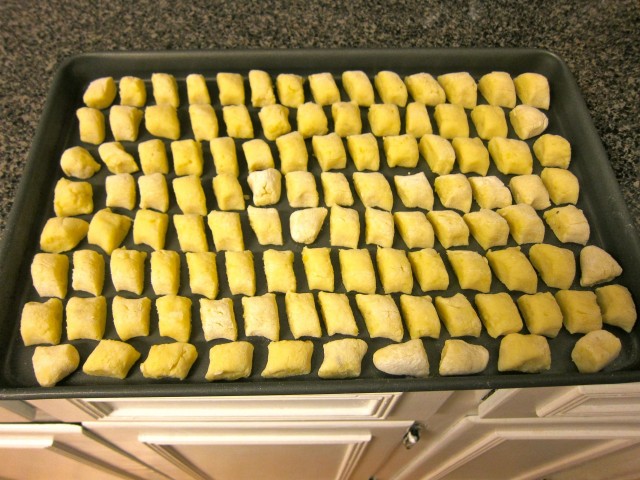 That'll make at least 2 more future dinners!
So here's what I used it for last night. I made a spicy tomato sauce with sizzled prosciutto and fresh green peas.
I started by heating up some olive oil and red chili flakes in a pan to let the spices infuse in the oil.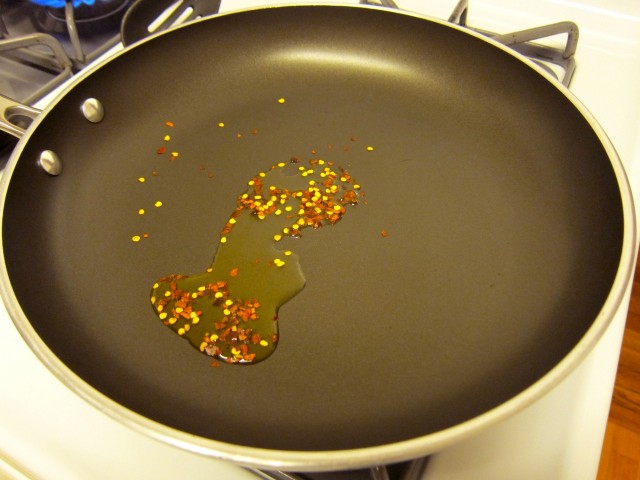 Then I cut up 3 slices of prosciutto into thin strips and sauteed them in the oil until just barely crispy. I topped it off with half a jar of tomato basil pasta sauce and set it aside while a pot of water was heating up to boil.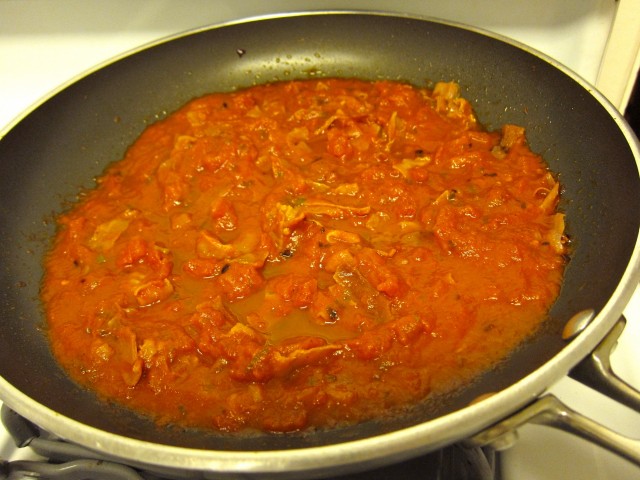 The gnocchi and frozen peas went into the boiling water and were drained as soon as they had all floated to the surface, indicating that they were done. Those got tossed into the spicy sauce and served with freshly grated parmesan on top.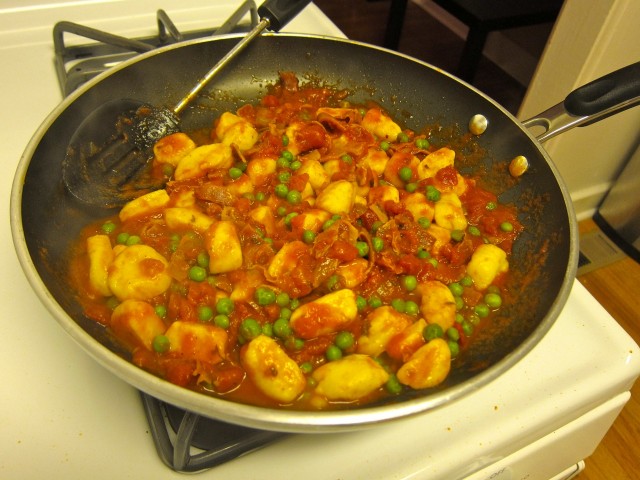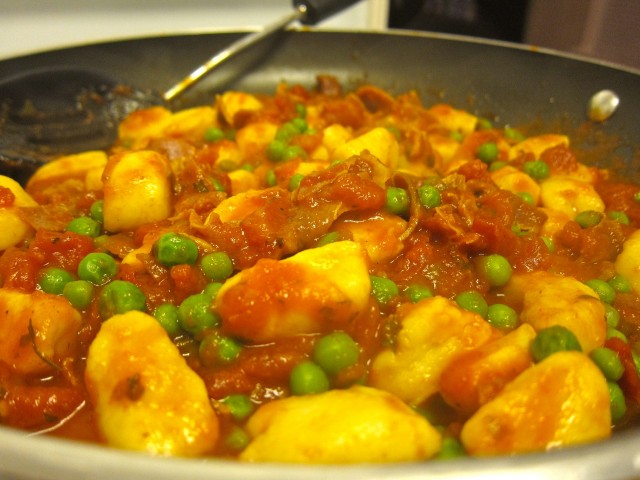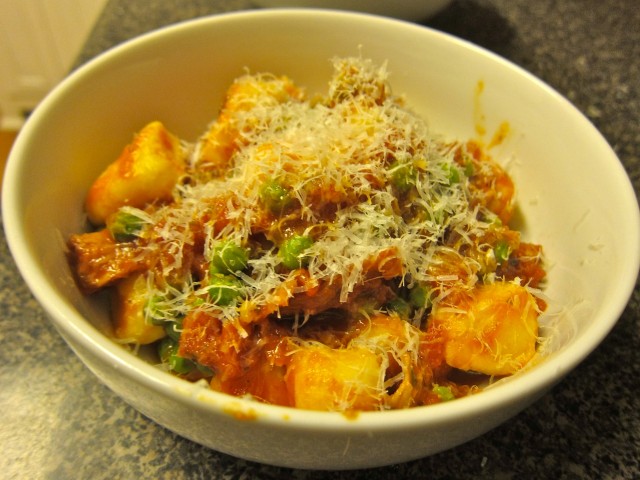 The whole thing took less than 20 minutes to put together because of the gnocchi being made ahead of time.
Gnocchi with prosciutto and peas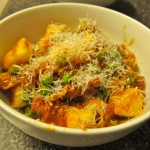 A quick meal of fluffy gnocchi in a spicy tomato sauce with prosciutto and peas.
Cook Time: 15 minutes
Total Time: 15 minutes
Yield: 2 servings
Ingredients
2 portions

prepared gnocchi

1/2 cup

frozen peas

3 slices

prosciutto

1 cup or so of

tomato sauce

a hefty pinch of

red chili flakes

olive oil

for sauteing

fresh grated

parmesan
Cooking Directions
In a pan, heat olive oil and red chili flakes on medium heat.
Slice prosciutto into thin strips and saute in oil until barely crispy.
Add tomato sauce and stir to combine.
Boil gnocchi and peas until they float to the surface, approximately 3 to 4 minutes. Drain and add to sauce.
Grate over fresh parmesan cheese and serve.
I love it when dinner takes almost no time at all but tastes like I spent ages on it. By investing the time in making a special component upfront, you can have the same experience of a special dinner in much less time.
Is there anything you like to make in bulk or ahead of time to save you time later?