Thanks for all the sweet and helpful comments on yesterday's post.  I'm feeling happier and ready to jump back into sharing more delicious vegan recipes with you! I'll start with this one: gingery pear and apple sauce…
I never really cared for applesauce that much as a kid.  I realize now that it might have had something to do with all the corn syrup and preservatives in store-bought jarred applesauces.  Blech.
I've made my own a couple times now and I've been very impressed both with how much better it tastes when you make it yourself and with how difficult it is to screw it up! With such a simple process for basic applesauce, I was sure I could toy around with making a fancier sauce pretty easily.
For this slurpable sauce you will need:
approx. 3 lbs. fruit (I used 4 large pears and 7 teeny tiny apples)
about a 2-inch piece of ginger
1 lemon
up to a 1/4 cup brown sugar (based on how sweet you want it to be)
2 tbsp. cinnamon
1 tbsp. nutmeg
1/4 tsp. ground clove
Start by running a peeler over the apples and pears.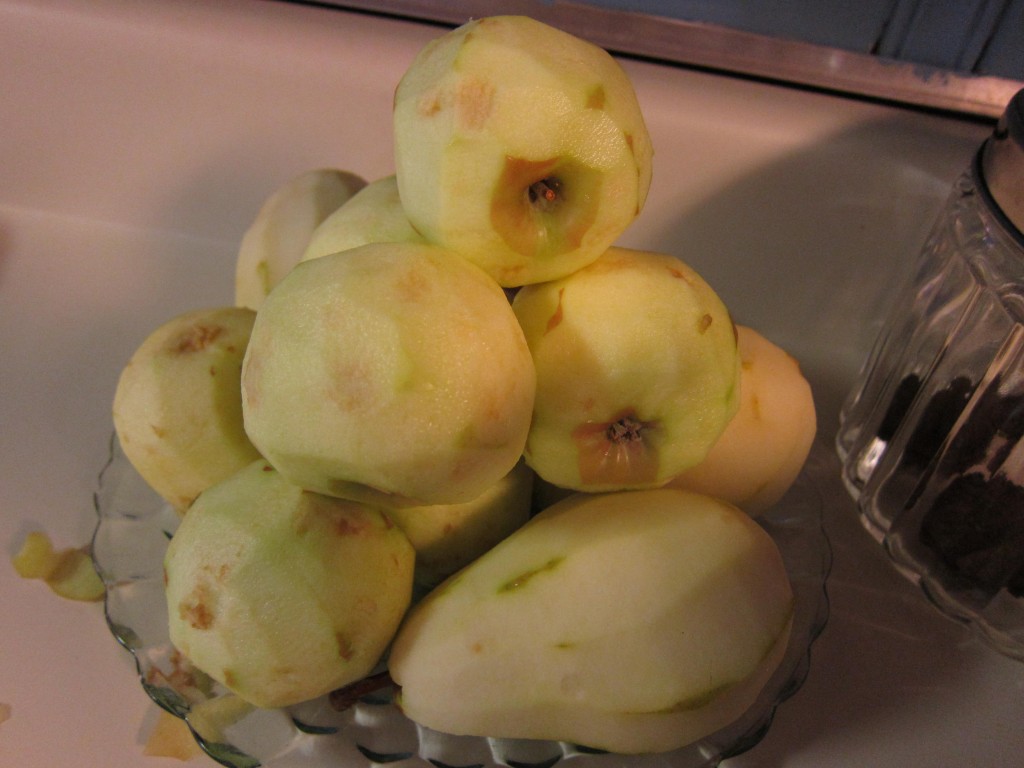 Just look at all those peels! It took some time to get all that fruit naked!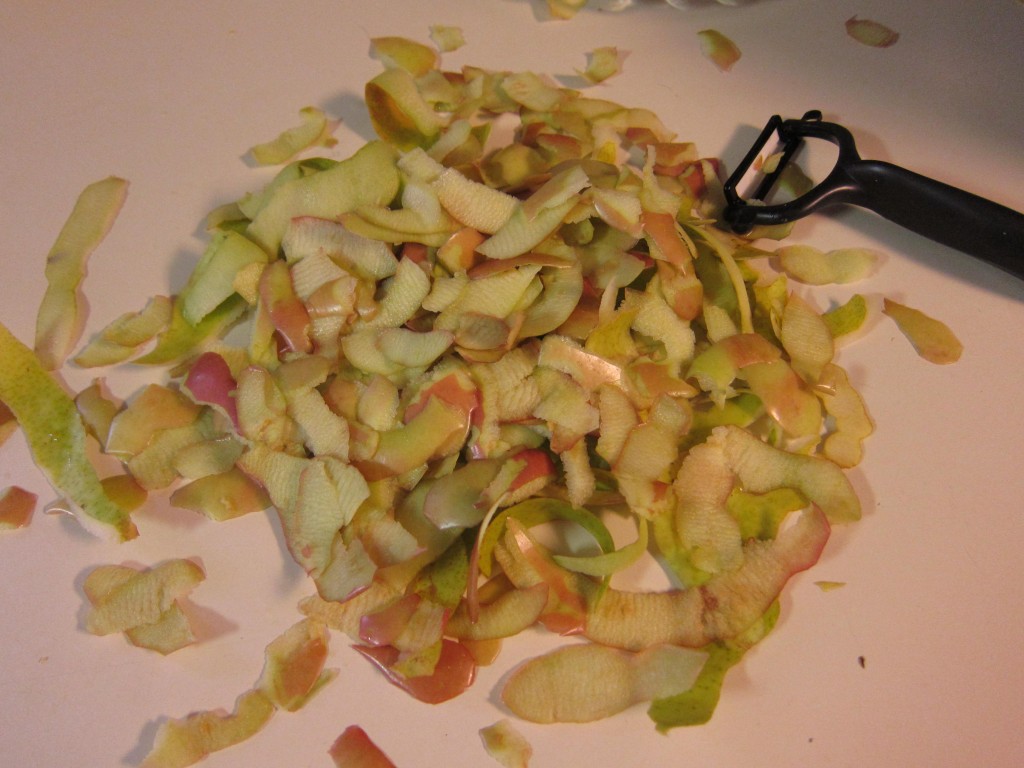 Cut the fruit off the cores and into cubes and toss into the slow cooker. Add the zest and juice of half the lemon then add all your spices and sugar. If you don't want it too sweet, don't add the entire 1/4 cup of sugar, you can always add more later but you can't subtract!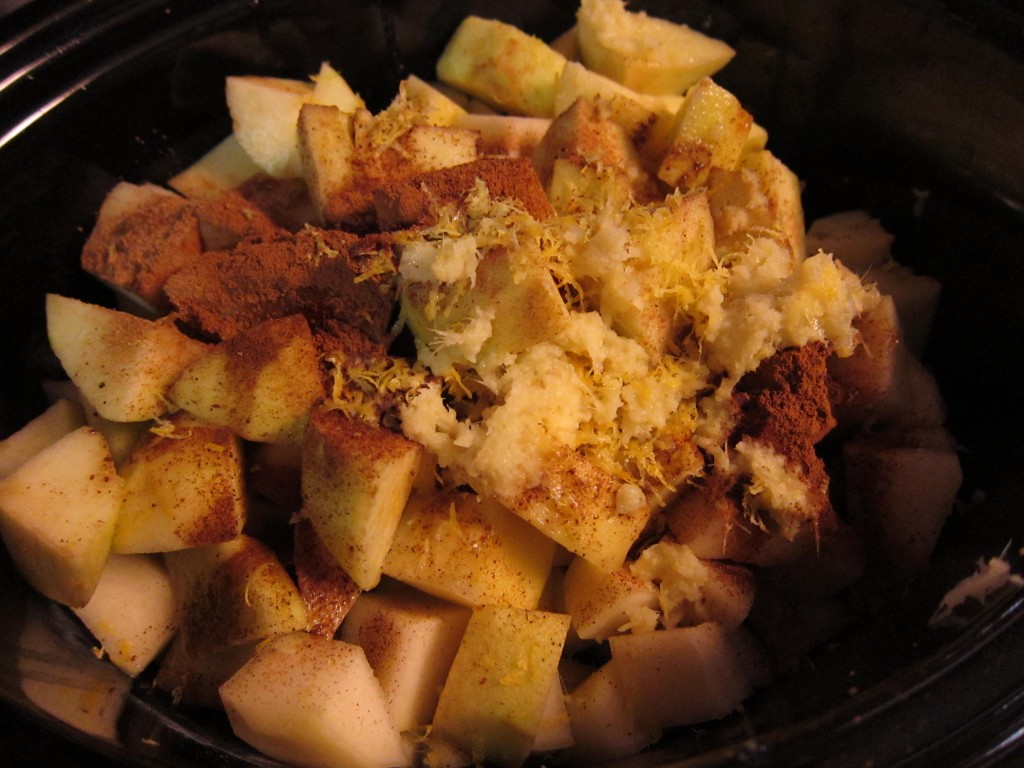 Cut the skin off the ginger and grate finely with a microplane directly into the pot. I used a piece of ginger this size, but of course, if you're not that into ginger you can use less or none at all.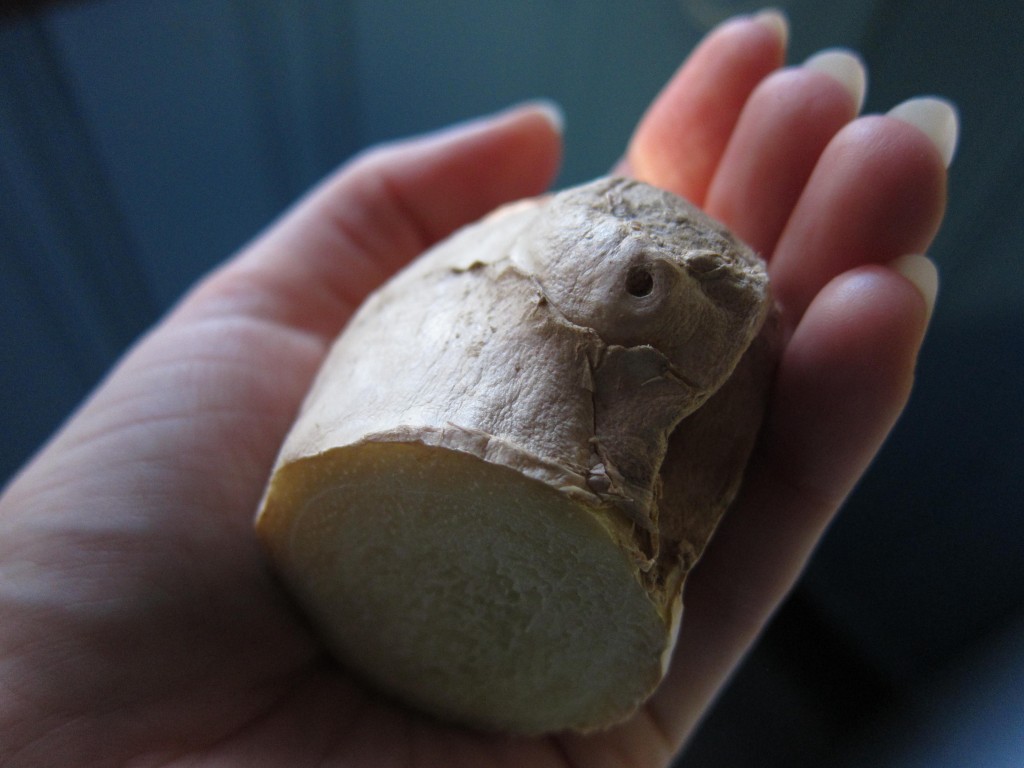 Toss with a spoon to distribute.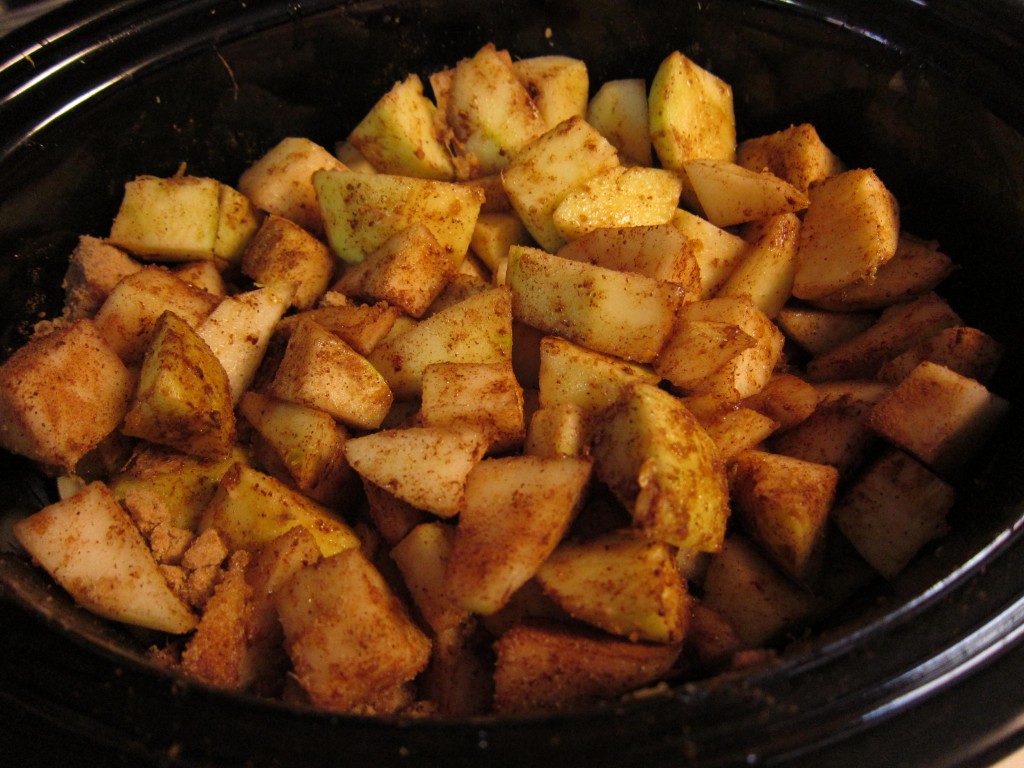 Cook on high for 6 hours or on low for 8 until everything is soft and sweet.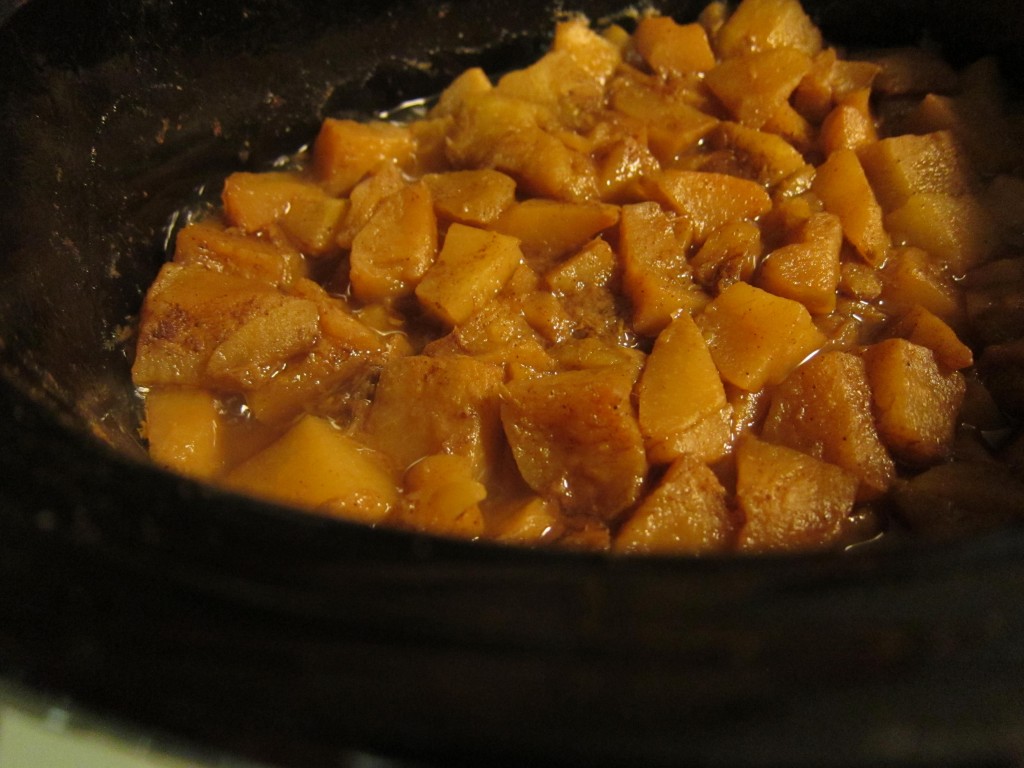 I then mashed mine with a potato masher and let it sit on the counter overnight to cool. You don't have to wait though, you can skip straight to pureeing it while it's still hot if you want.
Just spoon it into a food processor and blitz it until it's your desired consistency. I like mine smooth so I blend it for about 10 seconds or so, but if you want it chunky just pulse it a few times.
So sweet and slightly spicy from the ginger. I really reminds me of the wintery flavors of gingerbread.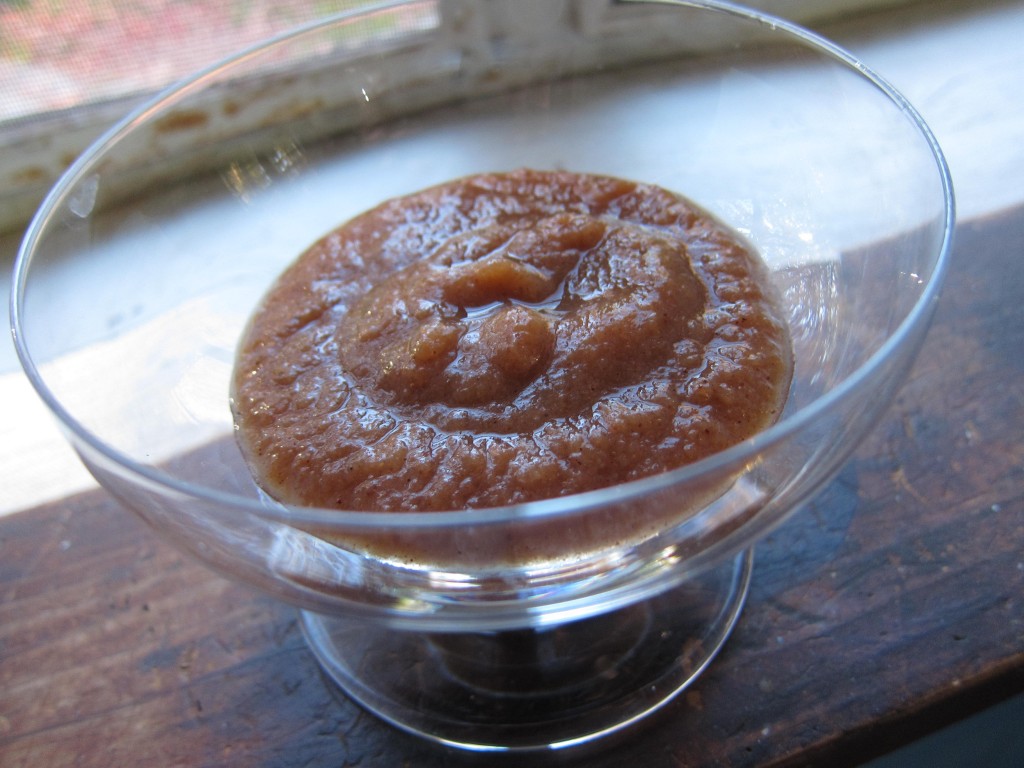 This is scrumptious on just about anything: yogurt, ice cream, oatmeal, even on a peanut butter sandwich!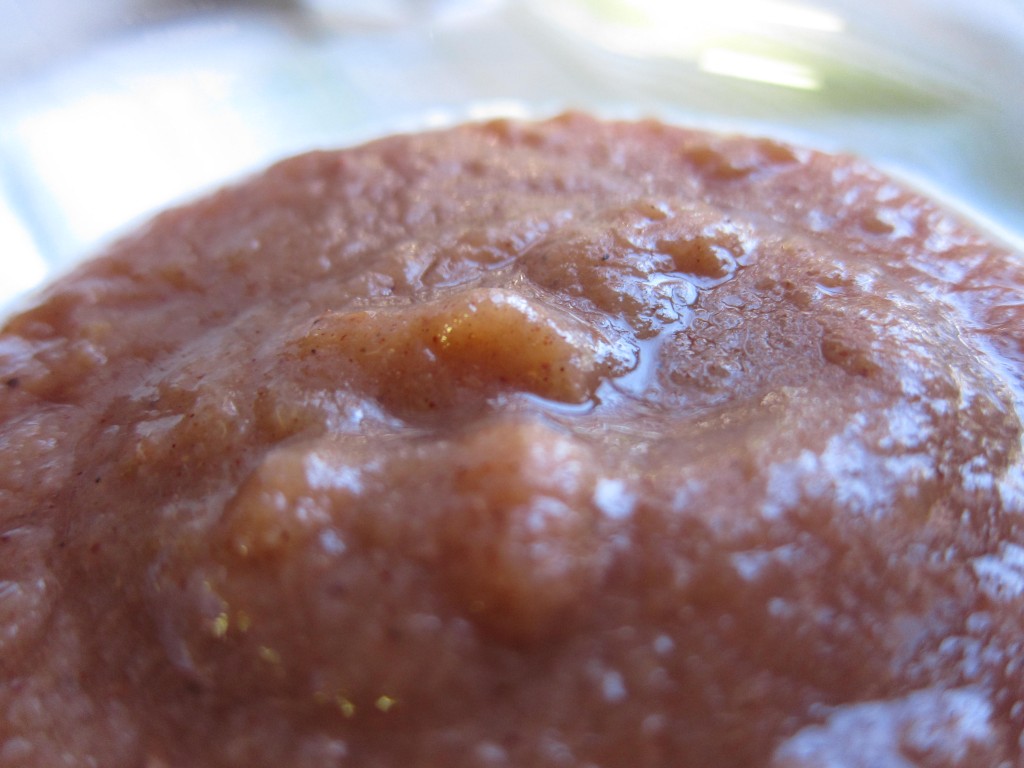 And it's gonna make a ton, so go ahead and do what I did and put half of it in the freezer.
Gingery pear and apple sauce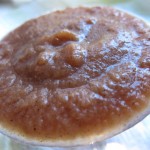 A unique take on classic applesauce with pear and ginger.
Prep Time: 15 minutes
Cook Time: 6 hours
Total Time: 6 hours, 15 minutes
Yield: About 6 cups
Ingredients
approx. 3 lbs. fruit

(I used 4 large pears and 7 small apples)

a 2 inch piece of

ginger

zest and juice of 1

lemon

up to a 1/4 cup

brown sugar

2 tbsp.

cinnamon

1 tbsp.

nutmeg

1/4 tsp.

ground clove
Cooking Directions
Peel and core fruit and add to slow cooker.
Grate over ginger and lemon zest.
Add all other ingredients.
Cook on high for 6 hours or on low for 8.
Either serve as is or puree for 10 seconds in food processor for a smoother texture.
Now all I need to do is try to make my own apple butter! Mmmmmm…..