Thank you all for all the well wishes after yesterday's post about my neck issues. I am really feeling a lot better now, almost back to normal.
I thought I'd lighten things up today with a recipe I made over Memorial Day weekend that totally wowed the crowd.
Prepare yourself for…….chocolate mascarpone stuffed strawberries!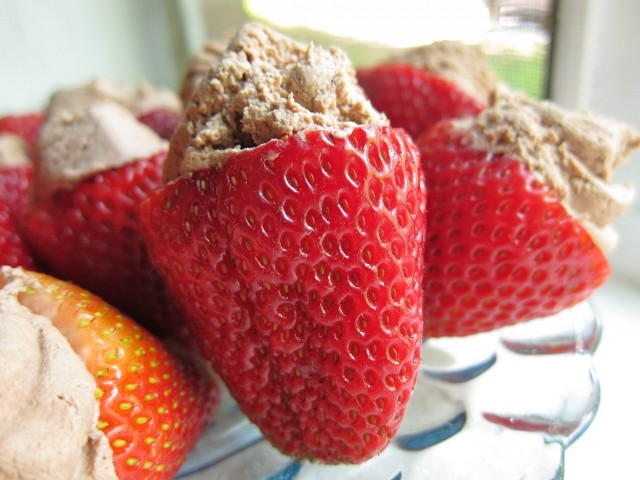 Cuz if chocolate, cheese, and sweet strawberries can't make a girl feel better when she's hurting, what can really?

Jeff and I went to a barbecue on Memorial Day with a ton of people. I was really hurting that night, but it felt so good to see these get gobbled up in mere minutes. It always makes me so happy when people like my food.
I found some enormous strawberries at Publix and knew they'd be great for making a light dessert. In fact, I've made this exact dessert before with green tea flavored mascarpone and it was a big hit, so I kinda had an idea that this might go over well. 😉
To make, I just cored the strawberries with a paring knife then got to work on my filling.
I used 16 oz. of room-temperature mascarpone cheese, and whipped it up with about 1/4 cup cocoa powder, two generous squirts of agave nectar, and maybe a half a cup or more of unsweetened almond milk to thin it out some.
A scooped the sweet cheese filling into a ziplock bag and cut the tip to use like a piping bag. I actually have a set of piping bags with fancy tips, but I was in a hurry and didn't have time to get it out.
They turned out beautifully though…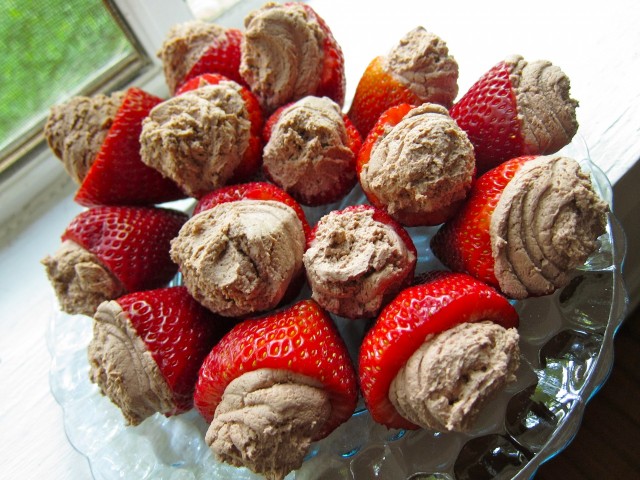 This recipe made about 20 giant stuffed strawberries.  It would make nearly twice that for regular sized strawberries, so if you're not making these for an army you might choose to cut the recipe in half.
Chocolate mascarpone stuffed strawberries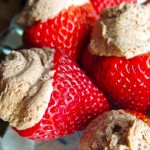 The not-too-sweet chocolatey mascarpone filling in these luscious strawberries really lets the fruit take center stage in this easy summer dessert.
Prep Time: 30 minutes
Yield: 20+ large strawberries
Ingredients
20 extra large

strawberries

16 oz.

unsweetened mascarpone cheese

4 tbsp.

agave nectar

1/4 cup

unsweetened cocoa powder

up to a 1/2 cup

unsweetened almond milk
Cooking Directions
Wash and allow strawberries to dry before cutting off the tops and coring them with a small knife.
Whip together all other ingredients and transfer to a piping bag.
Pipe cheese mixture into strawberries and refrigerate until time to enjoy.
The filling was not too sweet, allowing the flavor of the ripe strawberries to really shine. This is one recipe I'll make again and again, as it's super simple but always impresses.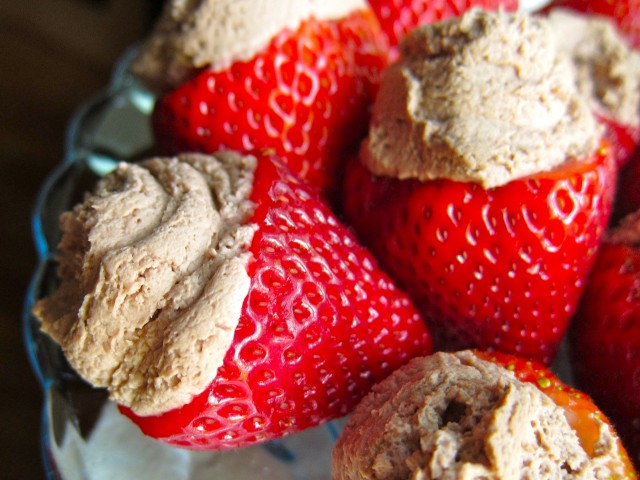 Next time, stuffed strawberries with chocolate chips!