As promised, I present to you the recipe for these amazing little apple butter oat bars I made in my frazzled cooking bender yesterday.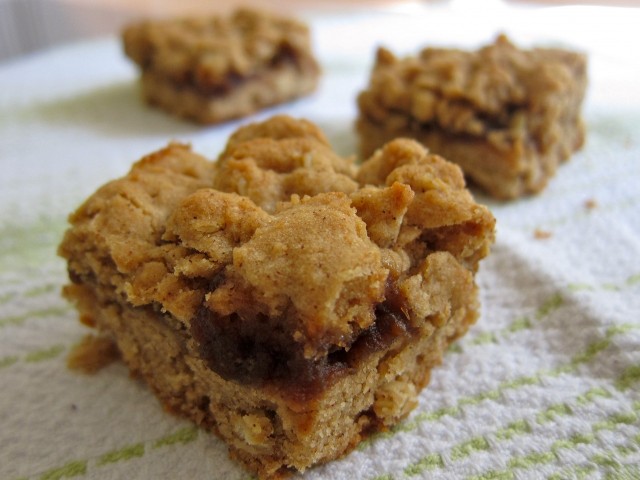 It sounds like I'm not the only one around here that is craving the flavors of fall already. I'm desperately longing for pumpkin butter, warm applesauce, baked apples, kabocha squash, hot cider, and all the other delicious foods we only get to eat around the winter holidays.
I made these same bars last week in another cooking frenzy but with strawberry jam and almonds instead. They were definitely yummy, but I'm just so over all the bouncy summer berries and very ready to break into the firmer fall fruits. Biting into one of these made me feel like I was wearing a fuzzy sweater and snowed in on the couch with a big warm blanket and a cup of hot tea.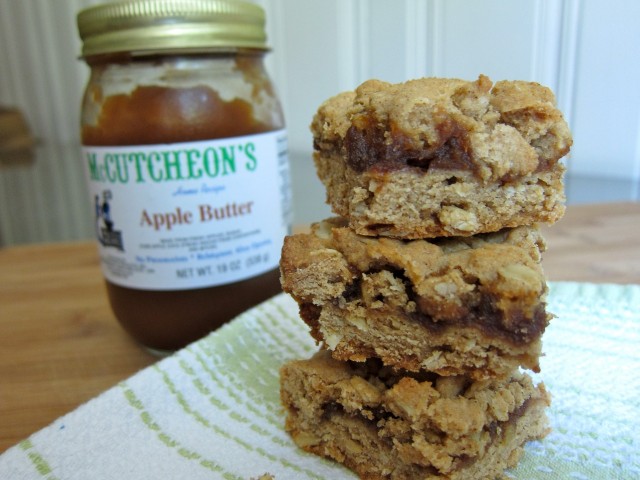 Apple butter oat bars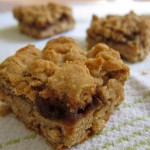 This quick and simple dessert or snack is not too sweet and features the warm flavors of cinnamon and apples.
Prep Time: 15 minutes
Cook Time: 55 minutes
Total Time: 1 hour, 10 minutes
Yield: 16 bars
Ingredients
1 stick of

butter (room temp.)

1/2 cup

brown sugar

1/4 cup

sugar

1

large egg

1 cup

all purpose flour

1/2 cup

chickpea flour

1 tsp.

baking powder

1 tsp.

cinnamon

1/4 tsp.

salt

3/4 cup

rolled oats

1/2 cup

apple butter
Cooking Directions
Cream together butter and sugars in a mixer.
Add egg and mix to combine.
Whisk together flours, cinnamon, baking powder, and salt in a separate mixing bowl.
Add dry mix to wet in three parts, mixing gently between each addition.
Fold in oats by hand and divide mixture into two equal parts
Press half the dough into a buttered and floured 9x9 baking pan and top with the apple butter.
Pinch off small pieces of the remaining dough and dot all over the top making sure to get all the way around the edges.
Bake at 350 degrees for 55 minutes.
Let cool in pan, turn out onto a cutting surface, and cut into bars.
These aren't too heavy on the butter and sugar either. It wouldn't be naughty for you to pop one or two for breakfast, with a rich cup of coffee or herbal tea. Just enough sweetness for a morning pastry.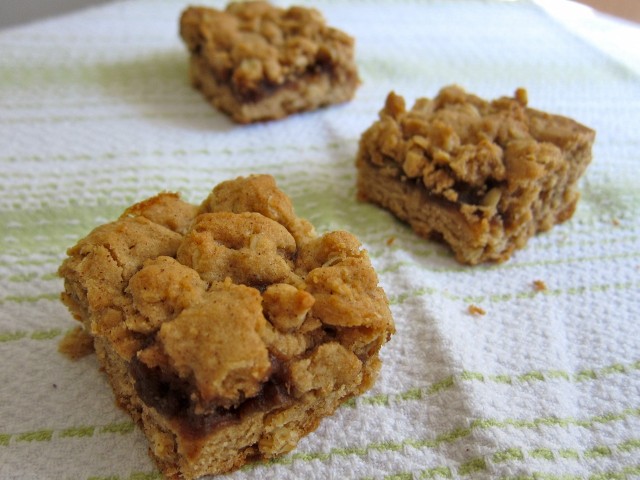 I intended on sending half of these to work with Jeff to keep me from eating all of them, but I don't think I can part with them!
What foods do you most closely associate with fall?