If you've missed any of my cake baking adventures so far, check out these posts first:
The wedding was on Saturday, and as you read this the bride and groom are sunning it up in Mexico for their honeymoon.
Jeff and I spent yesterday doing absolutely nothing. Pajamas all day. With a stressful week of cake-baking, trafficky travel, and wedding festivities – we were beat. Here's how it all went down…
We arrived at the wedding venue, Tennessee River Place, to an amazing pastoral scene. Big fluffy buffalo and strutting geese dotted the green grass.
There was an intense storm the day before so the ground was still wet. The overcast sky meant that the wedding and reception would be moved indoors rather than at the riverfront.
I had the good luck of getting an entire industrial kitchen to myself to finish the cake. I completely underestimated how long it would take to finish up, so I was scrambling a bit to get it all done before I needed to go get myself dressed and ready.
The first thing I did was fix a few cracks and flaws in the fondant. The drive to the wedding site was unpaved and the gravel had the cakes sliding all over the place in the car. It's amazing what a little vegetable shortening will do though. You can put a little on your finger and rub it in circles over a crack and it will largely disappear! I did that all over and with the exception of a few deeper dings, it smoothed out nicely.
Then I got to work on cutting and inserting the 4 support dowels…
I had to take those two on the right out again and cut them down to cake level. I also took the bottom cake layer off of its transport base and glued it to the decorative stand with a little buttercream.
I put the second layer on top, wrapped the bases in ribbon, and started postioning the topper accents.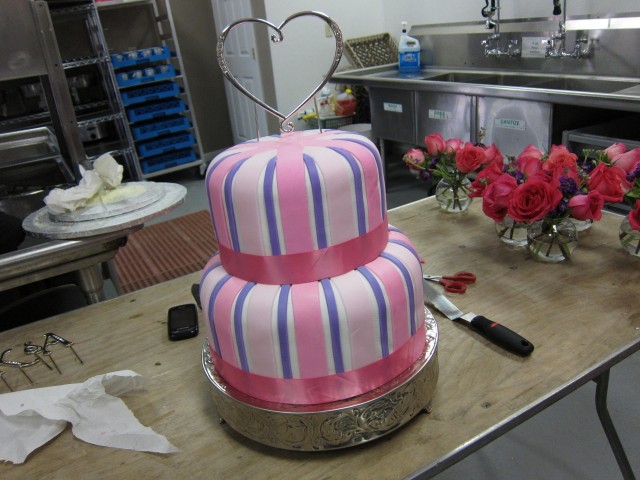 I used some cut roses to make a floral crown to fill out the top. I just cut the stems short and angled and pushed them right into the cake. I fluffed the flowers up a little by pulling the petals open a bit.
And…………………………….wait for it………………….here it is!!!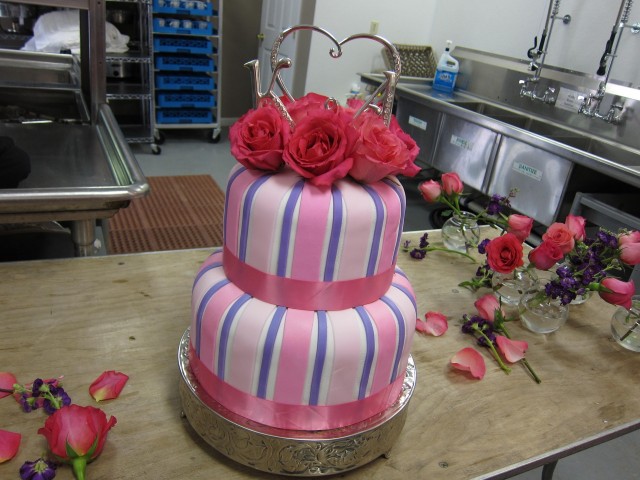 And a close-up of that floral crown…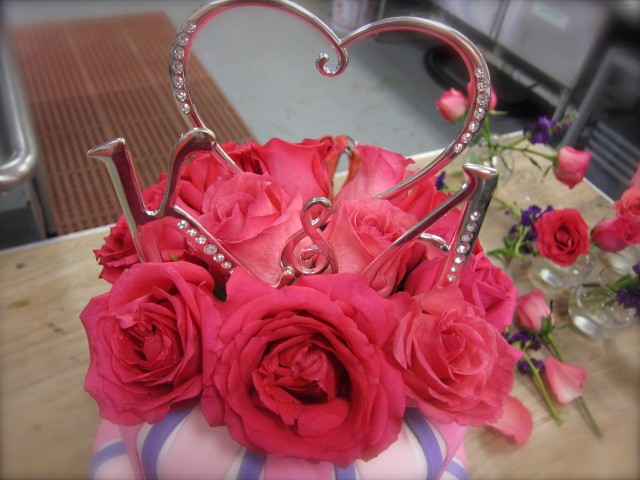 Squeee!!!! 😀
I left it in the kitchen and went to go get dressed. Jeff was not a huge fan of his groomsman outfit, but I thought he looked handsome.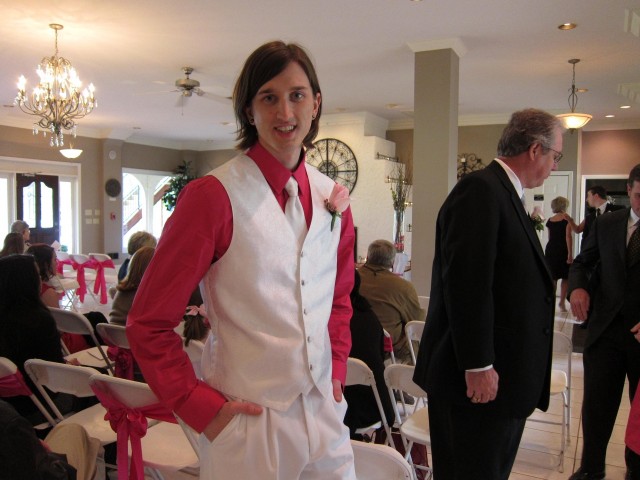 About an hour later, it was time for the ceremony!
Yay! Another Tucker girl enters the family!
Everyone filed out and we headed straight into dinner.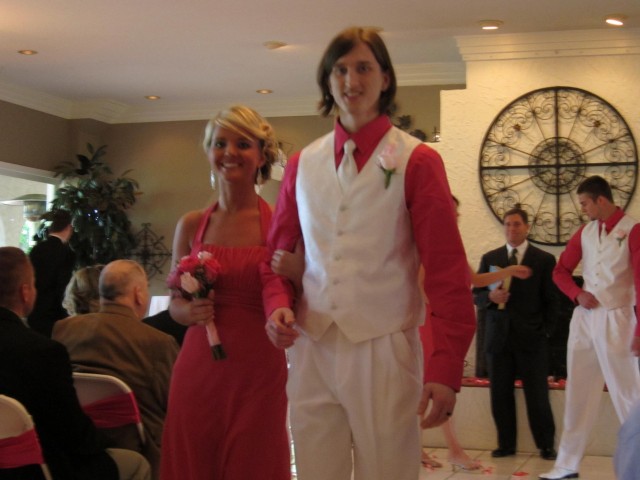 We were served barbecue, but not some sloppy greasy hole-in-the wall barbecue, this was really nice and tasted great.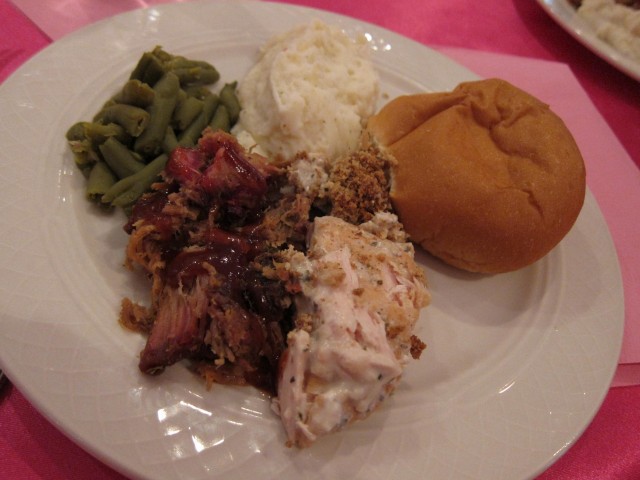 But who cares about dinner, you wanna see cake right?
Tada!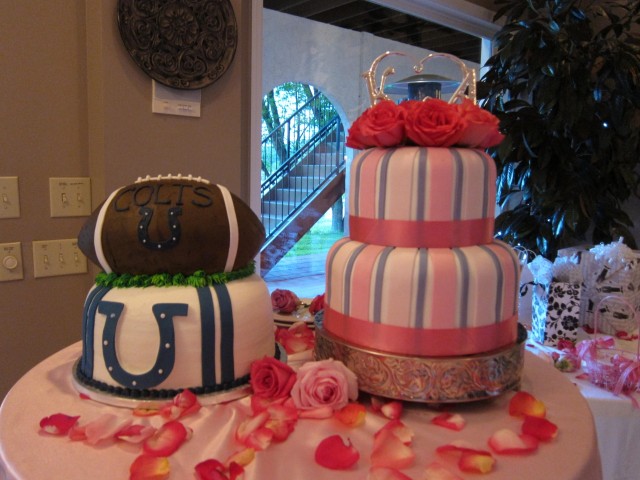 Isn't Kevin's groom cake awesome? It's not even covered in fondant! I can't believe they were able to get buttercream that smooth.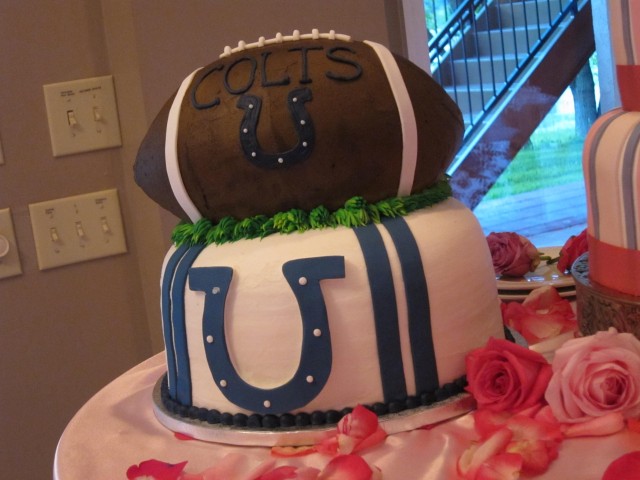 Here's a close-up of mine again…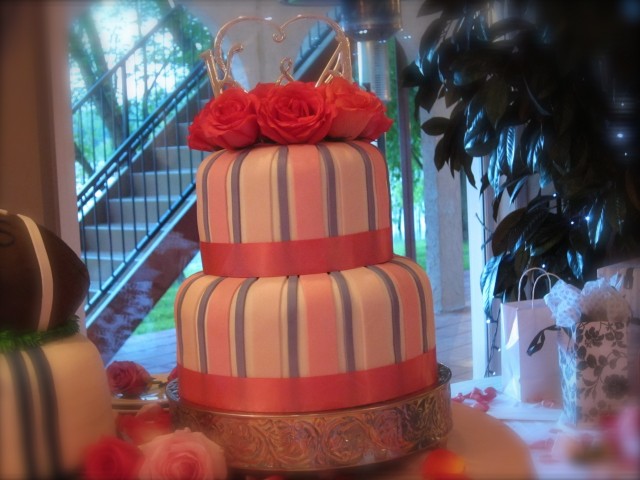 And then the part that I knew was coming but couldn't prepare for, cutting it! I'll admit that it was a little heart-wrenching to watch it get hacked up, but by that time I was pretty ready to move on to the part of my life where I don't have to think about cake 24 hours a day, so I wasn't too sad to see it go.

And it tasted great too. I love both of the recipes I used for the cake and for the buttercream. I've had so many wedding cakes with sickeningly sweet crusty icing and bland textureless cake.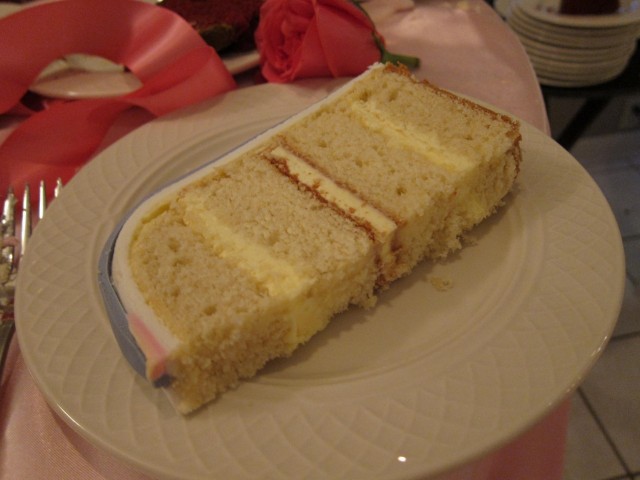 Mine was a little firmer and thicker like a sugar cookie cake and had a delicious buttery flavor. The buttercream was soft and velvety and while it was certainly very sweet, it wasn't a diabetic coma waiting to happen. 😉
The bride and groom loved the cake, which was all I needed to hear. I got many complements that evening and I was so proud. Last week while I was going crazy putting this thing together I was sure I'd never do it again. Now though, I've learned so many tips for how to make it easier next time that I think I could see myself having another go at it.
Thanks for following me on this journey! I have learned so much about this process and I'm really happy with what I did.