It's lovely out right now. Drippy, gray, and blustery. Maybe most people hate rainy days but I love em'.
I'm on my fifth cup of tea and listening to the hollow patter of the heavy raindrops hitting the roof and echoing through the attic. The air smells metallic and has a weightiness to it that hangs heavy on my shoulders. I should avoid contact with anything soft such as the couch right now or I might just collapse right into it and never get up.
It's days like these when I want nothing more than to sip on warm broth. Sometimes I wish I'd catch a cold just so I can watch movies on the couch all day while wrapped up in a giant fuzzy blanket and sipping on a bowl of chicken broth with rice and swirls of cooked egg.
This tsukimi nabe was made to be enjoyed on a day just like this.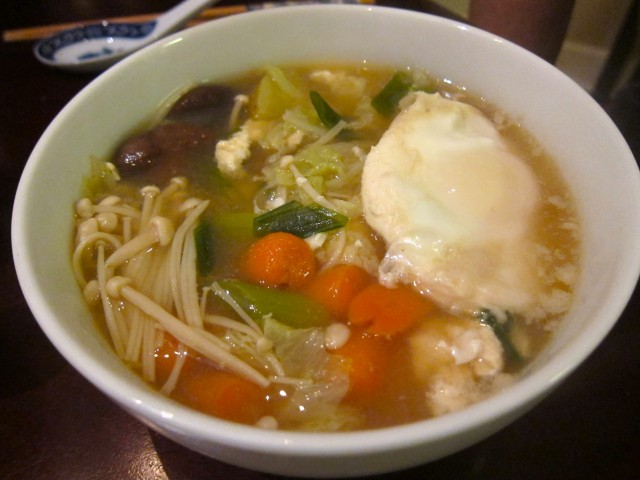 Tsukimi means "moon-viewing" and is a reference to the addition of an egg to the soup right at the end of cooking. The bright yellow yolk symbolizes the full moon. With a rich broth full of tender vegetables, it is a wonderful meal for a dreary day.
I started by placing all my ingredients in the donabe. If you don't have one it's no problem; you can make this in any lidded pot, I've even made a soup like this in a baking dish covered with aluminum foil and baked in the oven.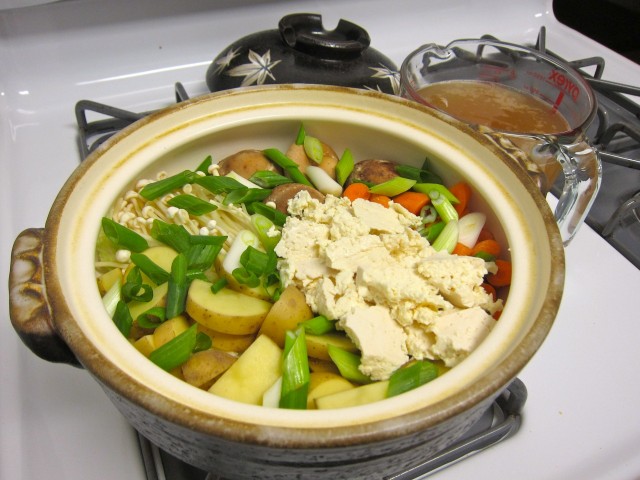 Layered on a bed of napa cabbage are clusters of shiitake mushrooms, enoki mushrooms, carrots, yukon gold potatoes, soft tofu, and a sprinkling of scallions.
The broth is just water flavored with white miso, mirin, fish sauce, soy sauce, and hondashi, which is a dried form of dashi stock.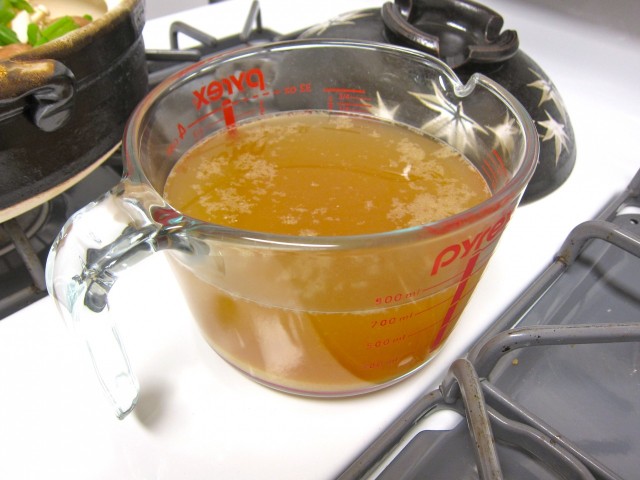 You pour the broth over everything else and turn the heat up to simmering with the lid on. After about 15 to 20 minutes, check the potatoes and carrots with a small knife, if they're as soft as you like them then it's done! The last thing to do is turn off the heat and crack an egg or two over the top, then just clamp on the lid for a few minutes to let the eggs set.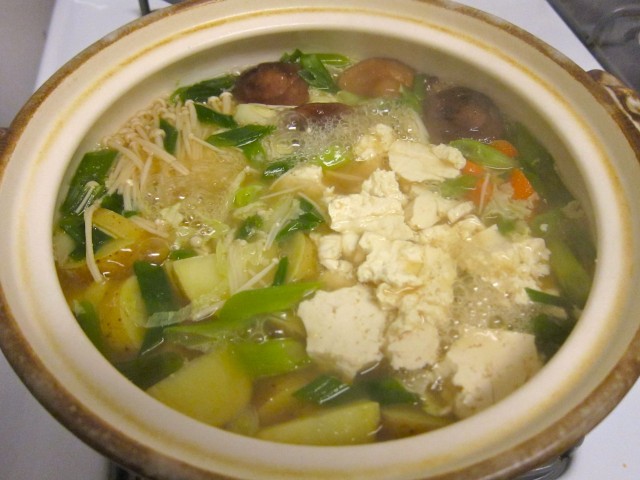 The eggs in this nabe were still runny in the middle and when broken open they added a creamy richness to the hot broth.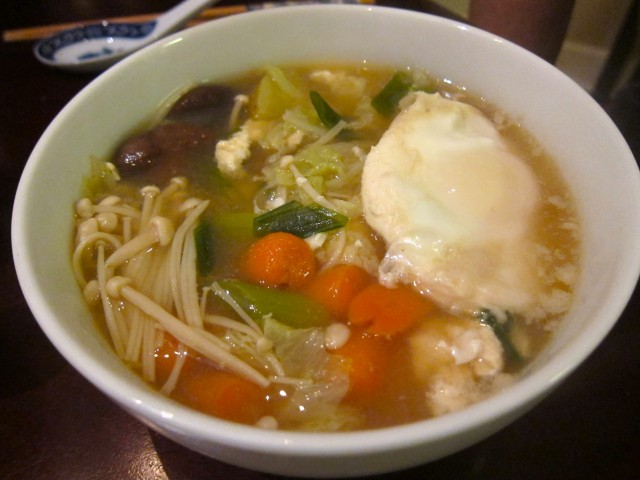 The great thing about this dish is you can use whatever vegetables you want or have on hand, as long as there's a soft egg cracked on top it's still a tsukimi nabe!
Tsukimi nabe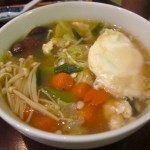 This "moon-viewing" hot pot features golden-yolked eggs cracked over a hot and satisfying soup of vegetables and soft tofu.
Prep Time: 15 minutes
Cook Time: 15 minutes
Total Time: 30 minutes
Yield: 3 to 4 servings
Ingredients
1/4 of a large

napa cabbage

4 to 6

shiitake mushroom caps

a small bunch of

enoki mushrooms

2 chopped

carrots

1 to 2 small

yukon gold potatoes

half a block of

soft tofu

3 large

scallions

3 cups

water

1 tbsp.

white miso

1 tbsp.

hondashi

1 tbsp.

mirin

1 tbsp.

fish sauce

1 tsp.

soy sauce

2

eggs

sesame seeds and togarashi

to garnish
Cooking Directions
Press the extra moisture out of a half block of soft tofu.
Cut vegetables into bite size pieces and arrange over a bed of napa cabbage in the donabe, break off pieces of the tofu and add in as well.
Heat water and miso in the microwave or over the stove until warm, whisk to break up miso completely. Add the other liquid ingredients to the broth.
Pour broth into donabe and cook on medium high heat with the lid on for 15 to 20 minutes or until potatoes and carrots are tender.
Turn off the heat and crack eggs over the top of the soup, put lid on and wait a few minutes for the eggs to set before serving.
After photographing, I topped the soup with some toasted sesame seeds and a sprinkle of spicy togarashi seasoning. I could really just drink that broth straight out of a mug though, which I may just do since there are plenty of leftovers and it's still drippy out.
What is your go-to comfort food for a rainy night?