Whew! Cake-bakin' week is almost complete! I am so done with looking at cake right now.
Jeff and I will be at the wedding today, so I'll be sure to fill you in on how I finished the cake and how everyone liked it tomorrow. For today though, I thought I'd show you guys a quick dinner that I made earlier in the week that turned out amazing.
Scrambled tamago donburi….or scrambled egg rice bowl!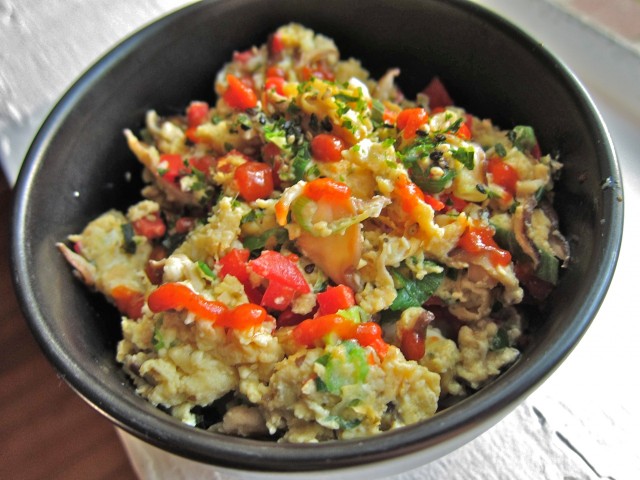 This was ridiculously easy to make. I started by making some rice in the rice cooker. If you don't have a rice cooker, you can use this method for how to make sushi rice.
While the rice was going, I chopped up half a bell pepper into small pieces and sliced a handful of shiitakes thinly. I sauteed those together while I got my egg mixture together.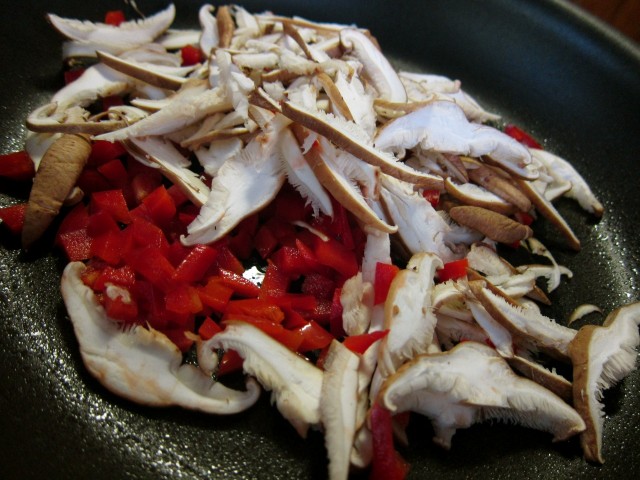 I used three eggs and whisked in about a tsp. each of soy sauce and rice vinegar. I mixed in a finely chopped scallion and sprinkled with seaweed flake.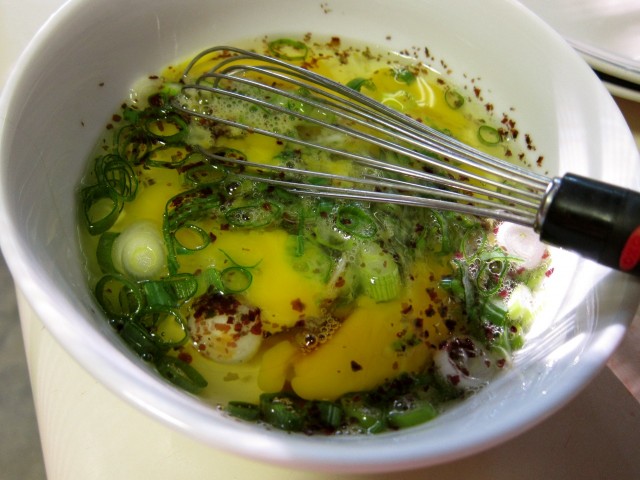 Once the veggies were cooked through, the egg mix was added to the pan and the veggies were mixed into it. It comes together pretty quickly at this point as the egg starts to solidify. Just keep moving a spatula through the mixture to break it up as it cooks, scrambling it.
And that is all there is to it. I think it took about 10 minutes total to make the scrambled tamago topping, can't argue with that!
Scrambled tamago donburi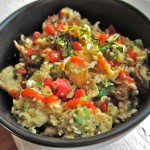 Scrambled eggs with veggies over rice forms a quick and simple asian donburi.
Prep Time: 5 minutes
Cook Time: 5 minutes
Total Time: 10 minutes
Yield: 2 servings
Ingredients
half a

red bell pepper (chopped)

a handful of

shiitakes (sliced thin)

3

eggs

1 tsp.

soy sauce

1 tsp.

rice vinegar

1

scallion (sliced thin)

garnish with

seaweed flake, sriracha, toasted sesame seeds

sesame oil

for sauteing
Cooking Directions
Saute peppers and shiitakes in sesame oil.
Whisk eggs with soy sauce, rice vinegar, and scallions.
When veggies are soft, add egg mixture and stir with a spatula until eggs are set.
Serve over rice and top with seaweed, sriracha, or toasted sesame if desired.
Served over hot rice with a couple squirts of fruity-spicy sriracha and a sprinkle of noritamago furikake, it was a warm and comforting meal ready in under 15 minutes.
What is your favorite way to eat eggs? (Cake counts!)