Achievement unlocked!
I have absolutely hit on a divine combination with this one.  I cannot believe that from such humble stuffs arose this magical creature.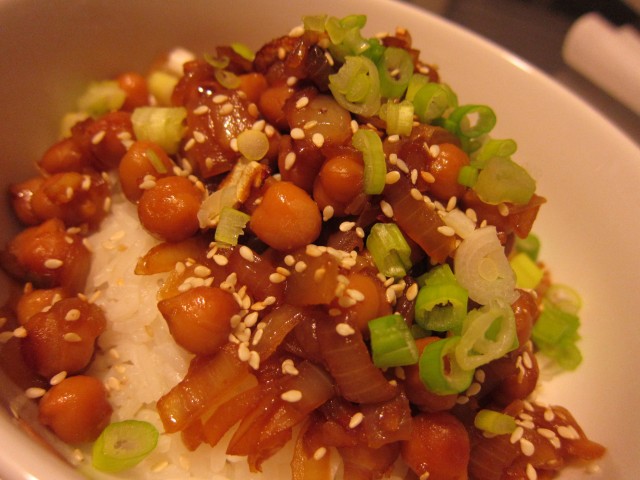 I started by chopping a whole onion and two cloves of garlic and let them start to brown in sesame oil. When they were just starting to caramelize I threw in a can of drained and rinsed chickpeas.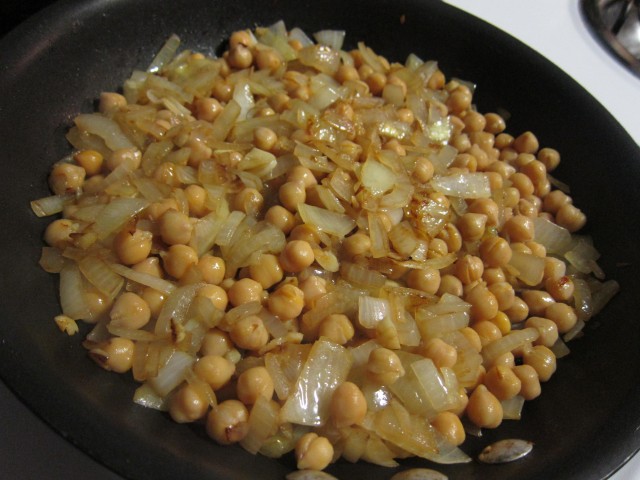 After those had a few minutes to warm up I added a generous swishing of soy sauce, a tsp. or so of rice vinegar, two squirts of hoisin sauce, and a few teeny dollops of chili garlic sauce.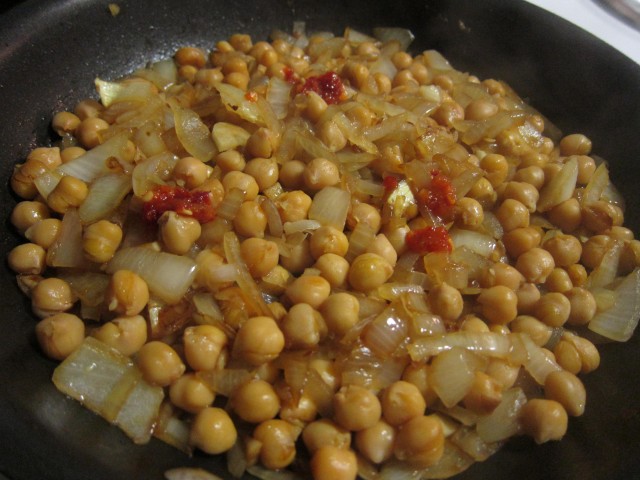 After a few more minutes the sauces had reduced and glazed the chickpeas and onions with a spicy, salty, sweet coating.
It sits on a bed of jasmine rice, fluffy like a pillow. Toasted sesame seeds and chopped scallions top it all off.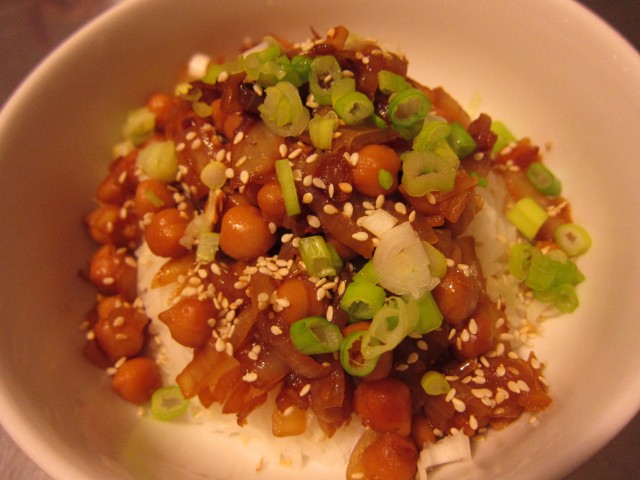 This was one of those dishes where I had little idea what I was making until I was halfway there. I assure you it will go swiftly into the "make again" file, it's just too easy and too good!
Spicy chickpea and onion donburi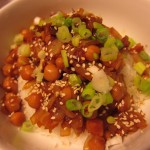 Chickpeas and onions glazed with a spicy sauce, served over rice.
Prep Time: 5 minutes
Cook Time: 10 minutes
Total Time: 15 minutes
Yield: 2 servings
Ingredients
1 can

chickpeas (drained and rinsed)

1 large

onion

2 cloves

of garlic (minced)

1 tbsp.

rice vinegar

2-3 tbsp.

soy sauce

1 tbsp.

hoisin sauce

approx. 1/2 tsp.

chili garlic sauce

sesame oil

for sauteing
Cooking Directions
Saute diced onion and garlic in sesame oil.
When onions begin to caramelize, add chickpeas and sauces.
Allow sauces to heat up and form a glaze over the chickpeas and onions.
Serve over jasmine rice and top with scallions and toasted sesame seeds if desired.
It's glorified rice and beans, people!  And it's insane!